Last date for submissions
30th April 2022
Date of publication
1st June 2022



WHAT A JOURNEY!
At the beginning of June Susan and I took off for France with the travel company "Great Railway Journeys", travelling via London to Lille. After a direct train from Perth to London and an overnight stay at St Pancras we embarked on the Eurostar for a 90 minute high speed trip to France. We were doing a five day tour of the Great War cemeteries of northern France and Belgium.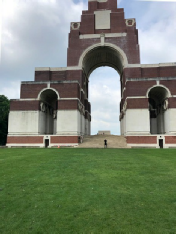 Since 2014 I have read extensively about the First World War, but nothing prepares you for the rows and rows of white grave stones in the Commonweath War Grave Cemeteries or the huge monuments to the fallen, many with no known grave.
Specifically I was hoping to find where on the Somme my grandfather fought and did I find it? "Y Ravine".
The brilliant five day tour took in a wide range of WW1 grave yards and visitor attractions both in the Somme and Ypres areas. Below are a few of the many photographs we took on our tour. It is difficult to appreciate the scale from a small picture.
The Thiepval Memorial to the fallen of the Somme with no known grave. This picture gives you an idea of the size of the memorial. That's me standing on
the steps. This building is covered with the names of the fallen, regiment by regiment.
Below is the Tyne Cot cemetery dedicated to the missing of the Somme. The second picture shows the name of John Scobie, my Great uncle from Abernethy. His name is amongst thousands of men listed on the memorial.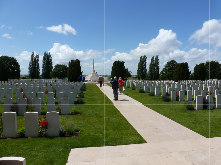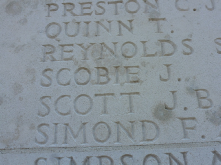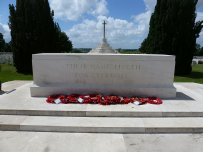 This is an example of the fantastic job the CWGC do in looking after the cemeteries.