CLOOTIE MCTOOT AND THE ABERNETHY EXPERIENCE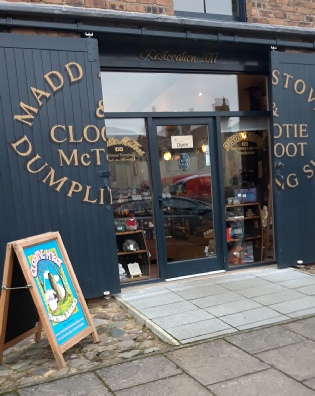 The Square in Abernethy has been enhanced by the transformation of the shed into the smart Madd Stoves and Clootie McToot Showroom by Michelle and Alasdair Maddox.
Michelle was born in Tayport and studied Food, Health and Welfare at Dundee University. After graduation she travelled regularly to London to work on The Good Food Show with Anthony Worrall Thomson. She met her husband, Alasdair, on a blind date and within a year they married and moved to Suffolk with his job in the Fire Service. Sons Kyle and Jacob were born there but when Michelle was expecting their daughter Eve they decided to move back to Scotland and bought their present house on Main Street.
Michelle started to teach Financial Capability through the CAB and developed the very successful Cabquest game. She had a team of volunteers who toured schools with the game to teach life skills through play.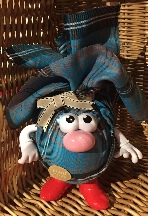 In 2015 Abernethy School was holding a Christmas Fair and her son, Jacob, persuaded her to take a table. She had to decide what to sell and made six Clootie Dumplings to her grannie's recipe. They quickly sold out and the same happened in 2016. In April 2017 she began the Clootie McToot business in her own home. Jacob helped her with the name and design of the logo. Mr Potato head was the model for the dumpling, the Tower was for Abernethy and oak trees for growth.
The building next door to their home came on the market and the rapidly expanding business moved there with a showroom for Maddox Stoves and high quality gifts and a professional kitchen for the dumplings. The shop opened in May 2018 and her mother, Anne Clarke, came in as Manager, Vicky Chisholm as Assistant Manager and local staff including Ellie Sutherland, Lana Bain, Kimi Anderson, Darren Mundy, Ali Hunter and Estelle Nicol. The logo was developed by Jimmie Glen of Oor Willie fame for Clootie McToot children's books.
The dumplings are stocked in over fifty farm shops, delis and hotels and are exported to USA, Canada, Germany, Sweden and Norway, both direct and wholesale. Some stockists wanted a more sophisticated branding, shown in this e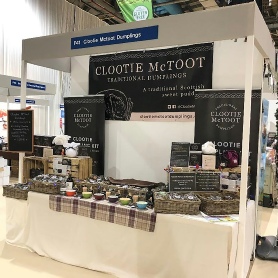 xhibition stand.
The dumplings are healthy with a high fruit,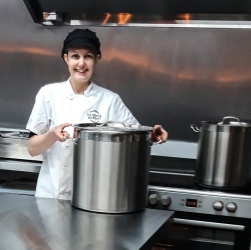 low sugar content and no preservatives, so have a short shelf life and therefore kits are going to be produced in recyclable boxes.
Michelle feels that Abernethy offers a whole visitor experience. Her kitchen is open for viewing or pre-booked demonstrations and visitors can have a cup of tea or coffee and a slice of dumpling. If they want a more substantial snack or meal Abernethy offers the excellent Crees Inn or Twa Sisters Tearoom. They can climb the Tower and visit the Museum or buy a picnic at Greig's Stores to take to Nurse Peattie's Garden.