HARMONIOUS LIVES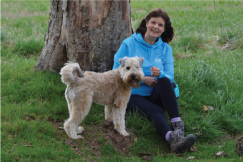 I'd like to introduce myself. My name is Jaine Hollis-Watson and I am the owner of Harmonious Lives Dog Training & Behaviour. I stay with my husband and Skye the Soft Coated Wheaten Terrier who is pictured with me.
I'm a dog trainer, running puppy and adolescent dog training classes in the lovely Pavilion in Abernethy.
I have always been an animal lover and, from the age of 4, I was pestering my mum to go and see the horses when I visited my grandma. I had many pets as a child but it wasn't until I was an adult that I was in the position to give dogs the lives they needed.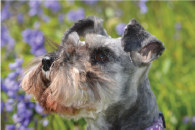 I started getting interested in training after finding that my miniature schnauzer Tinkerbelle (pictured here) was very stressed and reactive to other dogs. Having initially gone to a trainer who suggested I use a spray collar to scare her when she barked, I began to think there must be a kinder and better solution and so started my journey into researching more ethical ways. Although I'm sure I made mistakes along the way, it was heart-warming to see how much Tinkerbelle's barking improved and how she became less anxious.
Fast forward some years and I was asked to re-home another mini schnauzer. Her owner loved her to bits but had had to move to a busy area from the country and just could not cope with the stress that her reactivity caused her. She had been to numerous trainers, who believed in punishment but she was at her wits' end and it was with a very heavy heart she decided she wanted to do what she thought was best for the dog and let her live in a calm rural environment. Looking back now, I wish I was then in the position I am now and could have worked with her and her beloved dog to allow them to be happy together.
I believe we should train our dogs with respect and take time to consider what they would choose, not just the behaviour aspect that the guardian wants. The goal for me is about the relationship and quality of life the dog and its guardian have. Everything I do is not to just ensure that a dog is 'obedient' for the sake of the humans in its life but that both dog and family can live together happily and harmoniously. Once you look at your dog in this way, you'll be amazed how much happier both you and your dog will be. It therefore goes without saying that I believe in force-free training. This means that we never intentionally cause the dog pain, fear or stress. I do not advocate the use of aversive practices such as prong collars, spray collars, pet corrector sprays, water pistols, choke chains, slip collars or pull-free harnesses.
I am a qualified and experienced school teacher as well as a dog trainer, and so I am used to working with/training people as well as dogs. My dog training qualifications are on my website. The world of dog training is changing all the time as science discovers more about the ways dogs think and behave and I believe it's imperative to keep abreast with this. Therefore, I am continually furthering my knowledge – a good trainer will never stop learning. I am currently studying for an Advanced Diploma in Canine Behaviour Management.
As well as the puppy and adolescent classes I run at the pavilion, I also run workshops and enjoy working on a one to one basis with dogs and their guardians to help with problems such as pulling on the lead, jumping up, reacting to other dogs and not coming back when called. Training should be fun for the dog and its guardian so I incorporate games into how we work. If it's enjoyable, the dog guardians are more motivated to do it after a busy day at work or with the kids.
I looked around for places to hold my class locally and I just loved the pavilion. It's a perfect size for my small classes and great that we can also use the park when we need to. This means we can either work so the dogs have few distractions or we can get them used to other dogs and people too when appropriate. It will also be a great place to practise recall and walking nicely on a lead. Gordon was so helpful and welcoming and it's great to become part of the community.
Jaine Hollis-Watson