THOMAS EPPS' VISIT TO ABERNETHY: FEBRUARY 2022
TUESDAY 22ND FEBRUARY:
I had the pleasure of hosting "Thomas Epps, an Operations Chief in the U.S. Navy" for a few days at Abernethy, in February. His vessel USNS Laramie was moored in Hunterston and Thomas had shore leave. We had a hobby in common, and we met through our Facebook Group, Astronomy Scotland, so a meet up was a no brainer.
I travelled with Ian Borland to Largs, to pick up Thomas and we had a diversion to South Queensferry on the way home for a spot of lunch and an ogle at the "3 Bridges" Thomas was more than impressed at the old Forth Bridge, cameras and phones clicking away by us all.
We headed back to 'Nethy for some rest, an evening meal and Thomas's drink of choice TEA. (No amber nectar was consumed for the duration).
WEDNESDAY 23RD FEBRUARY:
We (Thomas, Ian and I) headed to Dundee to check out The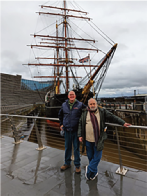 V & A museum; it was closed! The weather was appalling, horizontal rain and a wind that would have tamed even the hardiest of Scotsmen. So we ventured to the RRS Discovery display and we weren't disappointed, a great audio visual treat, and the ship was amazing, (if you haven't been, take the trip, it's worth it!) Seeing the ship really drove home how difficult it must have been for those hardy explorers.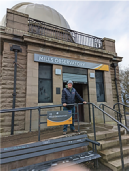 While in Dundee, we were hoping to see Mills Observatory, but the access road had recently been closed due to fallen trees, but we risked a drive just in case! "Phew, the road had been cleared". We again got the cameras and phones out to capture some pictures of the old building with its Art Deco railings and papier-mâché dome. We were greeted by one of the attendants and given a brief history of the building, but Thomas was here to see the "star" of the show, the old Cooke telescope and the dome.
Unfortunately, the telescope is out of operation at present due to some cogs needing replaced and the "soft focus" of the lenses needing attention. The facility has a large dobsonian telescope on site for evening events and it is more than capable of giving amazing views of the heavens. Well worth the visit!

THURSDAY 24th FEBRUARY:
Thursday was a day at home, we did some astro repairs to telescopes for the planned evening ahead, and the forecast for stargazing was good. After some home cooking by yours truly, we took the telescope out into Alan and Doreen's back yard, (they kindly agreed it was ok to use it), we toured the night sky, observing various star clusters, nebulae and actually stood for at least an hour chatting and looking above, a great night, and Thomas's knowledge of the night sky was just amazing.
J D Millar