SILVER LINING HAIR STUDIO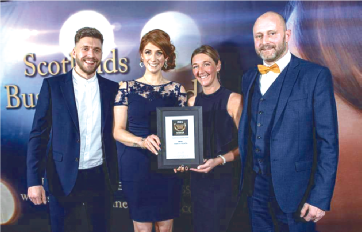 Well, how a year goes by so quickly. Fran and I took over running the old Berryfields Tearoom back in March 2021, and what a whirlwind of a year it has been! Many late nights were spent getting our new salon ready, and we truly appreciate all the help we were given along with the sweets and biscuits that were dropped in the window while we worked.
It has been a very busy year for both of us and it has been great seeing all the familiar faces come back through the door. We have also gained so many new faces and it has been an absolute pleasure getting to know and see you all again.
As most will know, we unexpectedly won our first award last year for Stylist of the Year at Perth and Kinross business awards; well we manged to go one better this year by winning Stylist of the Year at the Scottish business awards final. We did not expect to receive any awards let alone two. We cannot express deeply enough how much winning both awards means to us and to our little business. When you think about all the salons in the big cities like Glasgow, Edinburgh, Dundee and Perth; who would have thought the Silver lining hair studio of Abernethy would be competing with these. Fran and I never expected any of this and when we were nominated, we were just glad to know that our customers appreciate what we do and how we do it. To win the awards means a huge amount to both of us and we could not have done it without our lovely customers supporting us. But even though we have won these awards we will remain humble in the fact that we still have much to learn. Therefore, we regularly attend training sessions with other stylists and colour specialists to make sure we keep up with the latest trends in cutting, styling, and colouring. Much like the clothing industry, being a stylist is knowing about the latest styles and trends, which is why it is important to keep up with the latest cutting styles, cutting techniques and colours.
It has been an absolute pleasure serving the community this past year and we cannot wait to see what the next year brings.
So, what's new at the salon for this year? Well, we have decided to turn the room adjacent to the salon into a bridal room for all those beautiful brides to come and get their bridal hair and makeup done in a more intimate, comfortable, and relaxed atmosphere.
We have also started offering a silent service, "A silent service" I hear you say! Well, we have come to realise that after such a stressful two years many people are looking for that little bit of relaxing time, with no distraction or noise, or for somewhere where they can just close their eyes and not say a word, well this is just that. If you select silent service on the booking, we will ask only one or two questions about your hair and then your time is all yours, no talking just blissful silence. We recognise the strains of work, family life and social problems and sometimes it's nice just to switch the noise off for an hour or two.
We are both very grateful for all the support the village and our clients further afield have shown us and we cannot wait to see what the rest of the year will bring.
Debi and Fran