THE VIEW FROM THE HATCH.
When I first started as the dinner lady at Abernethy School I thought - 'I'll do it for five years, or till Alice (my youngest) leaves Primary' - Alice graduated from Uni two years ago!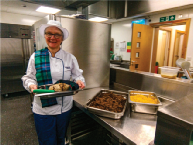 It is hard work being a school cook and not very glamorous, but I have loved being in the centre of the school life for all these years - before the school was extended EVERYTHING that wasn't classroom-based happened in the main hall where I could hear every word and note.
Recorder groups (thanks Mrs Patterson and Mrs Hollingsworth they were- ahem - lovely!) Choir rehearsals, guitar lessons, dance groups, all the hard work that went into school productions - actually I should've been official 'prompter' for all the shows as I heard every class do every rehearsal and knew all the songs and lines off by heart.
PE classes too, although with the basketball hoop being right above my metal hatch it could feel a bit like being in a war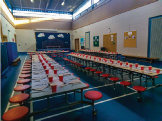 zone when shooting practice was in progress.
The annual dreaded Social Dance sessions too - they love it really, you can see their smiling faces and I am sure all the kids are very grateful that they know vaguely where to stand during the Dashing White Sergeant or the Gay Gordons later in life at weddings and ceilidhs - even if they sometimes had to dance with a teacher!!
I have enjoyed dressing up the hatch, my big cuddly monkey, and sometimes ourselves for the many theme days and special events over the years - Hallowe'en, Children in Need, Red Nose Day, World Book Day to name a few.
It has been a joy to watch the children progress from little, often unsure, nursery tots who can barely see over the hatch into tall, confident p7s (I swear some of them grow overnight!)
The lunch menus have progressed hugely in my time - no more turkey twizzlers here! (There never were any turkey twizzlers here actually) and there is now a large, varied, nutritionally balanced lunch on offer every day. Some of the favourite items have been the Oatie Biscuits, Caramel Flan, Macaroni Cheese - funny how lettuce never features in the favourites!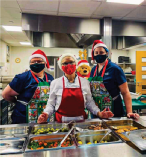 I have been lucky to have been helped in my endeavours by an amazing succession of "Blue Pinnies", as our catering assistants are known. You ALL know who you are! I couldn't have done it without you gals! We have had a lot of fun, in amongst the dishes and cups over the years, we even had a barbeque outside one day.
Christmas Dinner is always a highlight in the school kitchen diary with music, Santa hats, more kids eating than normally and Brussels sprouts available for the connoisseurs!
So, I believe there is a little girl in nursery this year whose father I remember coming up to the hatch for his lunch and that means it's time for me to hang up my white jacket and put away the serving spoons - a whole generation of Abernethy kids fed.
As school dinners move into a new phase I wish everyone involved "All the Best" and I hope the kids will still greet me in the village - "look- it's the school cooker!"
Julie Illingworth