COUNCILLORS' CONTRIBUTIONS
During the Coronavirus pandemic we were saddened to lose our councillor Henry Anderson:
TRIBUTE TO COUNCILLOR HENRY ANDERSON.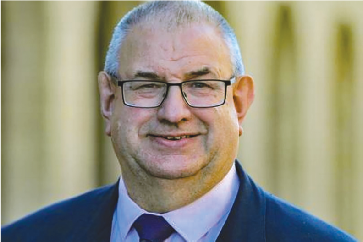 On Sunday December 27th we learned of the sad passing of Councillor Henry Anderson after a very short Covid illness. Henry was first elected to Perth & Kinross Council representing Almond & Earn in May 2012 and re-elected again in May 2017. Henry was Convenor of the Licensing Board from May 2012 to May 2017 and Convenor of the the Local Review Body from September 2019 onwards. He also served on the Planning and Development Management and Lifelong Learning committees. Henry was a hardworking local councillor and soon became well known in all the communities in Almond & Earn attending community council meetings and other community events.
Interestingly the last time we "saw" Henry was at an online meeting of the Planning and Development Management committee where an application for Energy From Waste scheme at Binn Farm was being determined. Following this Agenda item Henry excused himself as he was unwell. A few days later he was gone.
Attending an online meeting when you are unwell shows determination and commitment to the community. Henry really enjoyed the Planning and Development Management Committee so it was pleasing that Henry participated in the previous meeting where the next stage of Oudenarde was approved.
Henry was an approachable Councillor and always tried to do his best for anyone who raised an issue with him.
As well as being Councillor, many of you will have known him from his taxi firm, Brig Taxis of Bridge of Earn, where he delivered a friendly and diligent service to his many customers for over a decade.
Henry was a hard working conscientious colleague, we had our difference about politics, but much more united us than divided us. We were councillors all working together for the community.
Henry's funeral, due to Covid restrictions, was live streamed with only close family and friends able to attend. I, like others, viewed from home. Rev Wilson summed up Henry very well - he loved his family and community and worked hard for everyone.
Councillor Kathleen Baird,& Councillor David Illingworth
September 2009
Major changes to the way in which planning applications are decided were considered by Perth & Kinross Council recently.
Large parts of the Planning (Scotland) Act 2006 come into effect on 3rd August this year, and these will introduce a new planning application process across Scotland.
On Wednesday 24 June Full Council approved a report that sets out proposals for two major changes: setting up a Local Review Body and changing the Council's Scheme of Administration, as required by the Act.
Under the Act, there will be different procedures for determining national, major and local planning applications, and for applicants to appeal decisions made.
Developments of national significance will be decided by the Scottish Government, taking into account the views of the Full Council.
Major developments - which will include most sites of over 2 hectares or housing development of 50 houses and over - will have to be decided by the Full Council if they are significantly contrary to the Development Plan, which includes the current Local Plans. Appeals against these decisions will be dealt with by the Scottish Government.
The report to Council recommended that all other major applications will be decided by the Council's Development Control Committee, rather than some being delegated to officers as is an option under the Act.
It also recommended that smaller-scale local developments will generally be decided by officers under delegated powers. The new Act specifies that some local developments cannot be decided by officers - where the Council has a financial or other interest, or the application is made by a Councillor. The report recommended that, in addition, officers will not decide a local development if the applicant is a Chief Official or the application was determined previously by committee; or if the application is recommended for approval but is significantly contrary to the Development Plan, or if it has attracted a total of six or more objections from Community Councils, households, businesses or interest groups (more than one letter from the same household, organisation or property would count as one letter of objection).
In these cases, an application would be decided by the Development Control Committee. The addition of letters from Community Councils when calculating the number of objection letters is a significant change which has been requested by Community Councils in Perth and Kinross.
Appeals against decisions made by the Development Control Committee will continue to be determined by the Scottish Government. Appeals against decisions on local developments made by Council officers will be heard by the new Local Review Body of Councillors with no further right of appeal to the Scottish Government.
The report to Full Council proposed that the Local Review Body for Perth and Kinross will be made up of three members drawn from the Councillors who sit on the Development Control Committee.
Now that it has been agreed by Full Council, the revised Scheme of Administration will be submitted to Scottish Ministers for approval.
Councillor Ian Miller, Leader of the Council said:
"This Act will introduce the most significant change to planning in Scotland for decades. Its focus is to keep local decisions local, make the process more efficient and increase local people's say in planning applications. This Council has been working hard, with the Scottish Government, as the Act has been developed and to prepare for introducing the new requirements of the legislation in Perth and Kinross. A working group of officers and elected members has given a great deal of consideration to the Local Review Body and the best option for ensuring a robust appeals process."
The Act will introduce other changes, for example, from 3 August the notification of neighbours about planning applications will be undertaken by the Council rather than the applicant and later in the year there will be greater scope for household alterations and extensions to be undertaken without the need for planning permission. Final details are to be announced. Further information on the changes will be available on the Council's website as they come into place.
Councillor Wilma Lumsden
December 2009
In November of 2008 complaints were made both directly to the Council and also to the Local Councillors regarding a lack of maintenance of the large green space east of the Baulk and south of the play area in the Muir Homes estate at Moncrieff Gardens and also the play area in Brandywell Road. The litter bin at the latter location was never emptied and was overflowing.
Early in December 2008 correspondence began with Greenbelt, the Company responsible for the two areas. To date that Company has not addressed the issue of the large green space but in subsequent letters had suggested that they might take up Perth & Kinross Council's offer to take over the play area.
Unfortunately when the terms of the possible takeover were given to the Greenbelt Company they declined the offer and maintenance of the playpark therefore remains their responsibility. As a result the Council's hands are tied and they are not at liberty to even empty the litter bin
Cllrs Lumsden, Hayton and Jack
March 2010
No contribution
June2010
No contribution
September 2010
No contribution
December 2010
No contribution
March 2011
No contribution
June 2011
No contribution
September 2011
No contribution
December 2011
No contribution