FRAE YOUR COONCILLOR
I would like to welcome our new Councillor, Frank Smith who recently won the by-election following the passing of Councillor Henry Anderson. Councillor Smith has attended Zoom meetings of the Abernethy Community Council and can't wait to get to know people.
Summer time is here and we have all enjoyed some lovely sunny days (I know gardeners and farmers are looking for a few nights of gentle rain and I hope by the time you read this we will have had some). It is raining now!!
In the last Crier, I mentioned that we were about to set the Council Budget for the coming year and some tough decisions would need to be made. Budget day is over for another year; it was a long day with all four political groups presenting their own budget, but eventually the 2021/22 budget was passed. Moving in and out of "Teams" meetings was challenging, but after a world wide technical hitch in the morning we got through the day. Councillors in Almond and Earn are pleased with the budget and we are going to see more funds for road improvements and winter maintenance.
The environment matters very much to the residents of Abernethy & District. I am pleased that this administration has, through the budget process, increased funding of £35k for the provision of community gritting equipment such as spreaders .
The work carried out by voluntary groups such as "In Bloom" groups. "Paths" groups, "Litter Picking" groups is valued by all and additional funding has been made available to help them in their important work.
Special funding has also been given to Environmental Health to help them with all the additional visits to restaurants and licensed premises due to Covid regulations.
An additional £4m was also allocated to the road maintenance budget bringing it to almost £15m. I think we can all agree that there are visible improvements to the main road through Abernethy and the Baiglie Straight. Other road issues have been addressed by Scottish Water. Resurfacing in some areas is also very welcome. Hopefully this additional funding will go some way to reduce the back log of road defects and progress other road projects.
Road safety is a priority for all. Following requests from the parent council and the Community Council, two puffin crossings have been installed, making the road safer for children to walk to school. Quite a bit of money has been spent in Abernethy in recent weeks.
A big thank you to Abernethy in Bloom for the beautiful displays of spring flowers throughout the village. Nurse Peattie's garden, is looking lovely and is a lovely spot to sit and watch the world go by and maybe meet a friend for a chat.
This last month I have had the opportunity to walk round the village and admire some beautiful gardens; we are so fortunate to live in such a lovely area.
School will soon be out for the summer, a year all staff and pupils will never forget. Thank you to all staff at our schools who have worked so hard to give the pupils the best experience possible under extremely difficult circumstances.
Thank you also to the leaders of youth organisations and sport leaders who have supported our young people online initially but now outdoors, having fun once more.
Wherever you spend this summer, be it at home here in Abernethy or further afield, I hope that you can enjoy some sunshine, meet families and friends and most of all stay safe.
Councillor Kathleen Baird

As always I can be contacted on
07584206839 or at
kathleenbaird@pkc.gov.uk
FROM COUNCILLOR FRANK SMITH
I would like to introduce myself as newly elected Councillor Frank Smith for Almond and Earn Ward.
My background as a Golf Professional found me extensively travelling through the area.
During the by-election I expressed my concerns for local environmental issues and road traffic management and so moving forward, when instances arise relating to Abernethy and the surrounding area, with the support of Kathleen Baird and David Illingworth, I will aim to resolve such local concerns mentioned above and any other issues that occur.
Councillor Frank Smith
Contact Details
Address: c/o Perth & Kinross Council,
2 High Street, Perth, PH1 5PH
Telephone No: 01738 475039
Mobile No: 07901 327904
REPORT FROM COUNCILLOR DAVID ILLINGWORTH.
Brown and Sticky
A while back, members of the community commented on untidiness in the park behind the Williamson Hall and the lane that goes from the Bowling Club up to Main Street. Since then, I've been keeping an eye on those areas and tidying up when necessary.
It's a pleasure to report that whenever something brown and sticky is found, it's almost always… well… a stick. And it's not just the park and the lane, the village is virtually clear of poo and litter. A few years ago, walking the kids to the school meant negotiating a chicane of unpleasant mounds on Main Street.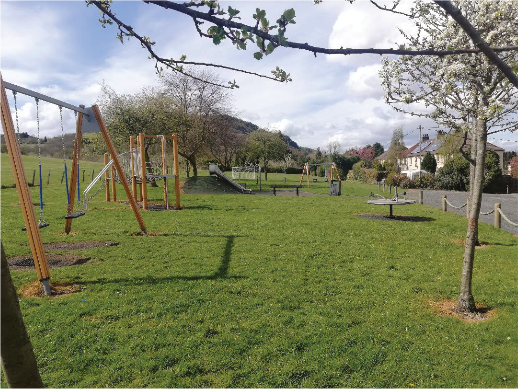 So, what's changed? It certainly wasn't an army of council workers sent out to clean our streets. No, it was you, the residents of Abernethy, who worked hard to reduce this problem. The vast majority of dog-owners take strenuous steps to clear up after their dogs and some super-citizens even pick up after the irresponsible miscreants who don't look after their dogs properly.
Abernethy is a place where people care about the environment around them. It's a place where people feel they belong.
The New Puffin Crossings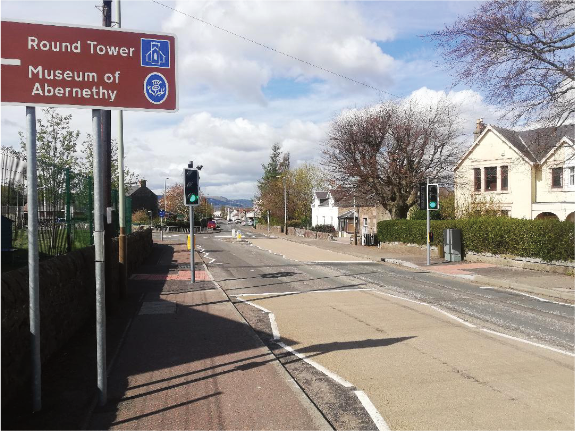 The new Puffin Crossing outside the school was completed just in time for Summer Term. When the new houses off the Newburgh Road are completed, it will be even more useful.
Back in 2019, the Council Administration voted to allocate £1,000,000 for road safety measures outside schools across Perth and Kinross. Following conversations at the Primary School's Parent Council and at Abernethy Community Council, I put in a request for a new crossing from this fund. I was delighted to hear that the project passed the criteria for Capital Spend and would go ahead. It's been delayed by Covid and the hard winter just gone past, but I hope both this new crossing and the replacement crossing at the bottom of School Wynd will be appreciated by everyone in Abernethy for many years to come.
Welcome Frank
On the 23rd March, Frank Smith from Methven was elected to be a Councillor for Almond and Earn. I know you will be as patient with him as you were with me, when I was elected 4 years ago. There is a lot to learn about how the Council operates and how to best help people in the ward.
Almond and Earn ward is the only ward in Perth and Kinross where all the Councillors come from the same party. It might even be the only ward in Scotland where that is the case. Which ever party you vote for, the three of us are here to represent and help you to the best of our ability.
Finally…
If you think there's anything I can help you with then please get in touch and I will do my level best to assist.
Councillor David Illingworth,
Phone 07767 006275 or
email dillingworth@pkc.gov.uk