FROM OUR COUNCILLOR I.
ROAD SAFETY I.
Following discussion at Abernethy Community Council last Autumn, I asked the Council for a new puffin crossing on the Newburgh Road opposite the primary school. This was to make up for losing the School Crossing Patroller a year or two back when the previous lollypop lady moved away and the post could not be filled. I'm delighted to report that detailed drawings are being prepared for this new Crossing and for the zebra crossing at the bottom of School Wynd to be upgraded to a full puffin crossing. This project still has to go through quite a lot of stages before the new crossings get built, but I think we can be quite optimistic that it will go ahead.
THE BLADE.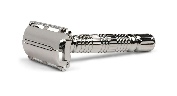 According to the internet, (which is always correct), the safety razor was invented at the start of the 20th Century "to reduce the level of skill needed for injury-free shaving (https://en.wikipedia.org/wiki/Shaving), thereby reducing the reliance on professional barbers https://en.wikipedia.org/wiki/Barber.".
When I got an old fashioned safety razor as a Christmas present last year I was perturbed. Would it give as close a shave as a plastic encased twin blade? Would it be as quick? Would it hurt? Well, I've stuck with my new razor. It takes a bit of getting used to, but I've come to love my morning shave. There's a retro feel which is like driving a vintage motor car and it sort of gives me a link to my dad who used the same kind of razor. It's also a way of reducing plastic which is virtually impossible to re-cycle. The blades I use come in a cardboard box and are wrapped in paper. Well, you're probably saying, "So what? He'll have dozens of bits of plastic all over his house and this won't have any impact on the amount of plastic going into the ocean." to which my reply is - "if we all make lots of little changes to the way we live our lives then maybe, just maybe, we might leave the world a better place for the generations to come". Reduce, Re-use, Recycle.
ROAD SAFETY II.
Perth and Kinross Countryside Trust have been awarded £90k for a feasibility study into creating a new active travel route from Bridge of Earn to Newburgh via Abernethy. The first stage of this route has already been completed at Aberargie with improvements to the path and new signs guiding walkers and cyclists away from the Baiglie Straight onto the Green Route via Dron. The results from the public consultation on a new safer path to run along the Baiglie Straight have been published and design work is ongoing on the route through Abernethy. If this comes to fruition, then Active Travel from Abernethy to Perth will become a whole lot safer and easier. Just google Perth and Kinross Countryside Trust for more information. Survey results are available at https://www.pkct.org/Handlers/Download.ashx?IDMF=f1e05528-1d63-4eb9-986a-3ee85edd3b5c
MAKE ABERNETHY GREAT AGAIN?
Do we need to "Make Abernethy Great Again"? As John Wayne would have said "Hell, No", because Abernethy is already great and it always has been. You've proved it's great throughout Covid because of all the things you've done as a community. Whether it's the community clap for the NHS, the Abernethy Angels delivering food and prescriptions, the mysterious and beautiful painted slates, neighbours keeping an eye on each other or leaving spare produce to share, you have been amazing. And Abernethy always has been great with all the clubs and societies from Abernethy Burns Club to The Williamson Hall Committee. You are always a community that looks out for others and contributes and shares. Take a bow, Abernethy. Be Proud.
David Illingworth
FRAE OOR COONCILLOR
March 2020; when our lives changed overnight! No one will ever forget 2020 when plans made for all sorts of events were cancelled overnight. We were all facing uncertainty and the priority was STAYING WELL. I do hope you are all well and adjusting to the new normal.
Home schooling became the new norm. A big thank you to all children, and parents who kept their children motivated along with working from home for most, or worse being furloughed. I want to thank all those who have demonstrated acts of kindness throughout the pandemic particularly the Abernethy Angels who carried out lots of "missions within the village". A special mention must go to Jill Young who "volunteered" to be the co-ordinator, which was a big relief to me! Thank you also to Beth Johnston who looked after the food larder and took surplus donations to Perth Food Bank. Thank you to everyone who has looked after their neighbour in true community spirit. There are so many good stories of kindness, of people helping those who were on their own.
For many it has been a really hard time, but I hope that now you have the confidence to go out a bit more.
Many have taken up new hobbies, gardening, knitting and baking, learning new skills, new words, and ZOOM has a new meaning. Via Zoom we can meet friends for coffee, partake in quizzes, SWI meetings, Community Council meetings, while Council meetings are via TEAMS. Extraordinary examples of fundraising for charities, spurred on by the inspirational Sir Captain Tom Moore known to all as Captain Tom. I only know this through social media as like most of you I have been at home. For someone who was in Perth at least four days a week and out most evenings to suddenly be at home is quite a change. Councillors and the majority of Perth & Kinross Council staff are working from home. Perth & Kinross Council were well prepared for the pandemic and quickly staff were redeployed where they were most needed. Throughout the pandemic eighteen essential services continued; keeping those in need of social care at home safe and well, delivering food to those who were shielding, providing childcare for key workers, dealing with numerous grant applications, maintaining regular collection of household waste, to name just a few. The Council has responded to 254 pieces of guidance from the Scottish Government since March.
Key workers kept us all safe, well and fed. I think we all realise that the list of key workers grows and grows. Everyone played their part.
Council meetings, planning committee, licensing committee and licensing board have all met virtually since June, and Abernethy residents have had the opportunity to participate in virtual presentations for planning applications all in the comfort and safety of their own homes.
Unfortunately during the last few months fly tipping has been a huge problem for many landowners and the Council. I know the recycling centres were closed for a few months for very good reasons and we all wish they had been permitted to reopen a bit sooner but that is no excuse for people to drive out into the countryside and dump furniture etc. Please be extra vigilant when paying someone to dispose of waste for you as they may take the money and then dump the waste illegally. Landowners were very grateful for the fund set up to help clear up the mess. Landowners or individuals can apply to this fund either to clear up an area or to pay for preventive measures, either fencing or boulders, to help prevent vehicular access.
As lockdown has eased Waste Service and Greenspace have had requests for litter picking equipment. To minimise the transmission of COVID-19 through borrowed litter picking equipment the council are buying 200 new litter pickers and implementing new procedures. Equipment will be offered to Community Councils or other groups who have shown interest, these will be on long term loan. Perth & Kinross Council's webpage will have more information, featuring Keep Scotland Beautiful guidelines. Community groups will be responsible for their own risk assessment with regard to litter picking. I know some people in the village have their own litter picker and regularly litter pick and their efforts are much appreciated. We can all help by not dropping litter.
In May, the council roads department contacted local councillors and the school with regard to the proposed upgrade of the zebra crossing to a puffin crossing and I am delighted that this will be changed to a puffin crossing, another puffin crossing will be sited east of the mini roundabout at the school and the flooding issue on Back Dykes at the bottom of School Wynd will be addressed. This work will be completed this financial year.
What are the next steps? Perth & Kinross Council along with its partners and volunteers has been responding to COVID-19 for 4 months and the impact of the virus on communities is rapidly changing as we come out of lockdown. We are now at the recovery and renewal stage and local authorities are tasked with working alongside their partners, agencies and members of the community to facilitate this. The impact of COVID-19 across the area has been considerable but it is too early to quantify.
Schools will have reopened by the time you read this and we will be gradually learning to live with the "new normal ". The council have introduced Space for People throughout Perth & Kinross to encourage more people to walk or cycle, and locally Glenfoot Road is now a designated Green Route. I do hope that drivers will adhere to the new speed limit.
Perth & Kinross Council has worked with communities throughout the pandemic and this will continue as we all recover. This is a challenging time for everyone and reliable digital connectivity is a priority as working from home is the new norm for many people. Perth & Kinross Council acknowledges that local volunteers have played a significant role in keeping those who were vulnerable safe and well and hope those who have volunteered will continue to play an active role in their community. Your community needs you!
Meeting people and being part of the community and seeing the issues is probably what I have missed most during the last few months. Who knows the challenges we may face in the coming weeks and months? Please remember you are not alone, there are many individuals and organisations willing to help. Please ask. Stay Safe and Well
Councillor Kathleen Baird
I can be contacted as usual: kathleenbaird@pkc.gov.uk or 07584206839
(Details correct at time of going to press, Ed)