WARTIME MEMORIES
Gordon Miller invited me to be interviewed by one of the Boy Scouts aiming for his communications badge. I was delighted to accept. Along with fellow victims of Jimmy Swan and Kevin Imrie from Branston we duly assembled at the pavillion to face our inquisitors. Having no idea of the questions we were to be asked we had no opportunity to prepare our answers. When I was asked "What are your memories of the war?" the first thing that came into my head was the nightmare train journey to Bodmin in Cornwall in 1945 when I was called up to the army. Due to wartime delays it took 36 hours involving two nights on the train and I arrived a day late. Another lad from Stanley called up at the same time only had to make his way to Queen's barracks in Perth.
In hindsight I should have described that Sunday morning on 3rd September 1939, two months short of my thirteenth birthday when the family gathered in the living room behind the shop in Stanley to hear the Prime Minister, Neville Chamberlain broadcast to the nation that we were at war with Germany. No wonder my mother was in tears. My elder brother Tom, seven years my senior was in line for an early call-up. He on the other hand could hardly wait and looked out for the postman every day. When his call-up eventually came my mother remarked "Perhaps we will get peace now". Quick as a flash Tom responded with "I don't think it will be as soon as that." Having returned to school - my first year at secondary school - after the summer holidays we were all sent home for a further brief holiday. On our return the evacuees, mainly from the West of Scotland had arrived. I struck up a friendship with one, Bill Christie from Glasgow who was based at Pitlandie Farm, Luncarty. Thanks to Janet Paton's sister Kirsten Bill and I met up again some years ago when Kirsten brought a group from Glasgow to visit the Museum. We spent the afternoon re-living old memories. Sadly he passed away about a couple of years after that final meeting.
In 1940 I remember seeing my brother-in-law John Keay looking gaunt and unshaven following an overnight train journey from Exeter where he had landed following the evacuation from Dunkirk. He would later jokingly refer to himself as a"Dunkirk Harrier".
Although I cannot recall the exact date, it must have been later that year that a stray German bomber unloaded its cargo of bombs in a line that ran from Guildtown via Stanley and on to Bankfoot.. Fortunately they all fell in open fields and the following day we descended on the craters in search of pieces of shrapnel as souvenirs. Unlike some of my pals I slept soundly throughout all the excitement. Having joined the Air Training Corps as a route to later join the R.A.F. I was denied my first flight by illness as described in my article in the last issue of the Crier.. On Easter Monday of the following year along with several other cadets we headed off to the Royal Naval Air Station at H.M.s. Condor, Arbroath. Two of us boarded a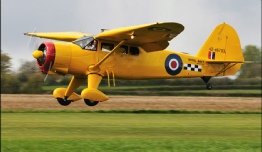 Stinson Reliant, a high-winged monoplane designed for observation purposes which afforded excellent views of the ground below.. Our route took us over Glamis Castle, Stanley where I lived and we swooped low over Tayside House in Isla Road, Perth where I worked. We then flew down the Carse to Dundee and back to Arbroath. It was well worth waiting for.
Later on I experienced a flight from Scone in a Tiger Moth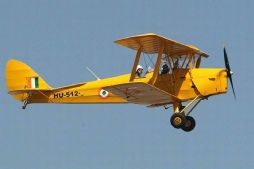 with dual controls. That was quite an experience. With a helmet and goggles on my head and a parachute strapped to my back I climbed aboard. The idea was that we would have a shot at flying the plane. Unfortunately the noise of the wind rushing past made it difficult to hear the pilot over the intercom. My opportunity to loop the loop had gone. But that was flying as opposed to sitting in a comfortable seat in a modern airliner enjoying the in-flight movie.
Fast forward to the 5th June 1944. Having volunteered for the R.A.F. at 17½ I had to report to the Caird Hall Dundee for my medical, which I happily passed A1. We all know what happened the following day - D Day. In September I had to report to Edinburgh for the Aircrew Selection Board which I also passed enabling me to wear a white tip in my forage cap.
My elation was not to last for long however as in November a large number of potential aircrew had to report to Scarborough for further stringent tests over several days, myself included. We weren't billeted in the Grand Hotel. In January 1945 my discharge papers arrived from the R.A.F. , the reason - surplus to requirements. Shortly after, the call-up papers to the army arrived in the post leading up to that nightmare train journey to Bodmin. As a follow-up to our interviews with the Scouts we were invited to a Parents' Evening when we were able to see our interviews which had been taped. Then the successful scouts were presented with their badges, rounding off a pleasant evening.
Bob Macdonald