DON'T - IF YOU HOPE TO REMAIN SOLVENT
There is a poem by Noel Coward warning Mrs Worthington to dissuade her daughter from following a stage career. A clever parody, popular in equestrian circles warns "Don't put your daughter on a horse, Mrs Worthington" A typical verse reads
You will stand for hours in slickers
With mud up to your knickers
To watch her do her dressage in the rain
You will get back home to dry out
And before you've had time to cry out
You'll be saddling up and starting out again
In our case it wasn't Mrs Macdonald's idea to put our daughter on a horse, it was her mother, Mrs Morris's. I suspect it was to make up for the fact that she herself never had a pony as a child. On the run-up to our eldest daughter Jane's ninth birthday she had been scouring the columns of The Courier for a suitable mount when she spotted one for sale at Balmullo which the owner had sadly out-grown - an eleven year old Welsh pony, eleven hands high named Copper. A trip down to Balmullo to check him out and agree a price and the deal was sealed. Not having a tow-bar on our car, never mind a trailer we enlisted the aid of Davie Stalker and duly returned to collect the new addition to our household. There were tears from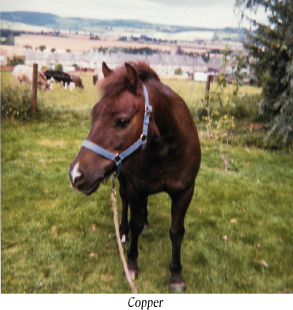 the owner as she said goodbye to her beloved pony. Initially Copper was housed at the Riding Stables set up by Betty Munro and Karine Morton. For Jane the school day seemed never-ending until she could try out her new pony. When I arrived home from work I saw the family return home led by the dejected figure of Jane. Things had not gone well. In hindsight Copper was perhaps not the best choice for a first pony. He bucked off almost everyone who tried to mount him at the stables. However perseverance prevailed and all three girls in turn had a lot of fun with him. For company we acquired a Shetland who we called Pokey in preference to his fancy name Harvieston Pibroch.
One Saturday morning I received a phone call from a house in Perth Road asking if our ponies were missing. A quick check confirmed that they were not in the field. There they were grazing contentedly on the caller's front lawn. One Saturday on returning from a trip down to the village to fill up the car with petrol I was horrified to be told that Copper was in the living room. With a china cabinet and a glass door to negotiate, leading him out was going to be tricky but all went well apart from a brief stop when he dug his heels in half-way through the living room door. My relief at getting him out quickly changed to horror when my middle daughter Anne said "Daddy, Copper has done a jobbie in the house" That had been his reason for stopping. Never was a shovel wielded so quickly to transfer the offending heap to the rose bed. I am reminded of the incident every year when the person addressing the haggis at the Burns Supper utters the words "warm, reekin', rich".
Our next purchase from a girl, Carole Anne from Saline, was a palomino gelding named "Crème Caramel". Not quite as lively as Copper except when you tried to bring him in from fresh green grass in springtime when he would lash out with his back legs. Steady would be a good description and Jane took him on with Copper passing to Anne.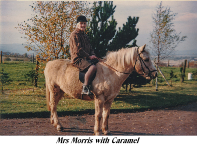 We had still kept up with Carole Anne and a year or two later she was selling a 14.2 New Forest gelding called "Stafford Sparker" which we duly acquired allowing Anne to inherit Caramel and Moira Copper. "Spankie" was undoubtedly our best buy as Jane went on to have many successes with him over the years.
Our association with the Perth Hunt branch of the Pony Club began when Ann Cooper, whose elder daughter Morag had joined, asked us if Jane would be interested in going to the Pony Club annual camp at Scone Racecourse stables. Thus began a long association with the Pony Club, including nine years when I held the post of Secretary. Our travels took us all over Scotland plus a couple of trips to the Annual Championships in Shropshire. Over the years we made many friends.
It can be an expensive business however, hence the warning "Don't put your daughter on a horse"
I hope to relate more equestrian memories in future issues of the Crier.
Bob Macdonald