SPORTING HEROES
The Perth area has produced its fair share of sporting heroes over the years.
Prior to the war the F.A. Cup was won by Portsmouth. Captain was Eric, sometimes known as Jimmy, Guthrie from Luncarty. I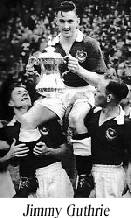 was lucky enough to see him play for Portsmouth against Arsenal in 1945, the first game I attended South of the border. It was played at 'Spurs ground, White Hart Lane, as Highbury was bombed during the war. As an avid collector of cigarette cards portraying footballers I was quite a thrill to see the likes of Eddie Hapgood, George Male, and Cliff Bastin of Arsenal in the flesh. On retirement Guthrie went on to become Secretary of the Players' Union.

Scott Symon of Errol played for Rangers and went on to manage them, after a spell as manager of East Fife. He also played cricket and I am pretty sure represented Scotland at both sports.
During the late 1950s and 1960s Perthshire County Cricket Club had an abundance of talent with Jimmy Brown, Len Dudman, Mike Kerrigan and Bobby Young regulars in the Scotland team. Len Dudman's best innings probably his 161 not out against Warwickshire at Edgbaston. He also represented Scotland at curling and junior football and signed for Falkirk F.C. He was also a handy golfer. Truly a great all rounder.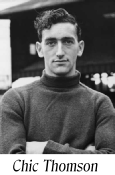 Chic Thomson played in goal for Blairgowrie Juniors and went on to play for Chelsea. He was regular in the team that won the league title for the first time in their history in 1954-55. He moved on to Nottingham Forest and was in their F.A. Cup winning team in 1959.
Dave (Ginger) Ewing, a former school mate of mine was a raw young centre half with

Luncarty when he signed for Manchester City. He played in two F.A. Cup Finals. They lost the first in 1955 to Newcastle United but returned the following year to beat Birmingham City 3-1 to lift the Cup in what will always be remembered as the Bert Trautmann final. Trautmann, City's German goalkeeper played on despite a serious neck injury, sustained when diving at the feet of an opposing forward. Ginger, at centre half, played his part booting the ball out of sight to protect his keeper. I only saw him play once for City, against Arsenal at Highbury. Prior to the game I remarked that the last time I had seen him in action was for Luncarty. He said in reply that I wouldn't see much difference. The result - 6-2 for the Gunners! He served for many years on the coaching staff at Maine Road and also managed Hibs for a brief spell during which he brought fans' favourite Joe Baker back to Easter Road..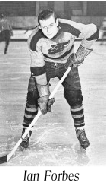 Ice hockey was extremely popular in the post-war era and several local lads

made their mark with Perth Panthers, notably Ian Forbes and Jimmy Spence. Both represented Great Britain and Ian, who went on to coaching was admitted to the Ice Hockey Hall of Fame. Jimmy went on to play for Nottingham Panthers.
Coupar Angus brothers Tommy, David and Stuart Gray all made their mark in football: Tommy with Rangers, David with Dundee and Stuart, a rugged centre-half with Blairgowrie Juniors, was capped at Junior level for Scotland.
Also from Coupar Angus was Alan Gilzean who starred for Dundee and went on to play for Tottenham Hotspur and of course Scotland. I saw his last game for Dundee when he sc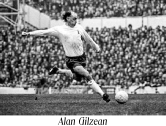 ored a hat-trick in a four all draw with St Johnstone, with ex-councillor Jackie Coburn netting three for Saints. Stanley produced the Williamson brothers. Jimmy played for Dunfermline, Arthur for Southend United and Andy for Brechin City and Portadown in Northern Ireland. I am sure that Arthur still holds the record for the longest run of consecutive appearances for the Shrimpers. Editor's Note The record still stands 229 games. When working in London I went to Roots Hall on one occasion to see him play and also if they had a fixture at one of the London grounds. On one occasion at Loftus Road he gave me some complimentary tickets to dispose of. On offering them to fans I received suspicious looks and they hurried past. I gave up as I couldn't give them away.
Raymond Stewart was another Stanley lad who played for Dundee United and West Ham and was capped for Scotland. He featured in the Hammers tea

m who beat

Arsenal 1-0 in the 1980 F.A. Cup Final. Perth lad Harold Davis who's mother had the Palace Bar (later the Hal o' the Wynd and King's Arms) in George Street signed for East Fife but was badly injured when serving with the Black Watch during the Korean War. He returned to East Fife, fought his way back to fitness, was snapped up by Rangers where his performances earned him the title of "The Iron Man of Ibrox".

Frank Christie from Scone was a stalwart in the successful East Fife side in the early 1950s and was in the team that beat Partick Thistle in the 1953-54 League Cup Final. When working in London I went out to Griffin Park to see them play an evening friendly against Brentford. I ended up spending the night in the team hotel in Bayswater sharing a room with Frank and Danny McLennan. After the match we all went out on the town and decided to take in the floor show at the Pigalle night club in Piccadilly. Visions of the exotic dancers quickly evaporated on seeing the prices on the menu and we all trooped out.
Finally we must not forget Abernethy. I believe that the late Willie Sutherland played for Dundee United prio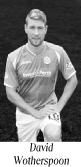 r to the war and Richard Smith and Billy Russell played for East Fife. We can also lay claim to David Wotherspoon who played his part in St Johnstone's Scottish Cup victory in 2014.

And who can forget talisman Steven May from nearby Newburgh who carried the date of the Cup Final on his jersey.




Bob Macdonald