Last date for submissions
3oth April 2021
Date of publication
1st June 2021



MAGIC OF THEATRE
Fresh from watching the excellent production of The Mousetrap in Perth Concert Hall I thought back to the first time I saw it in the Ambassadors Theatre in London about sixty years ago. There was a time when I could have referred to the programme to refresh my memory but I sold my collection of over 100, mainly from London's West End some years ago knowing that they would probably end up in a recycling bin when I was no longer around. I used to enjoy browsing through them and spotting names in minor roles who later became well known.
One example was Arthur Lowe of "Dad's Army" fame playing a salesman in "Pajama Game" at the Coliseum. Another was Sidney James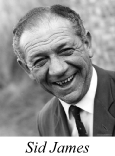 who appeared as a Red Indian chief in "Annie Get Your Gun" at the same theatre. A revue entitled "Starlight Roof" at the London Hippodrome starred comedian Vic Oliver who was married to one of Winston Churchill's daughters. It also featured Wally Boag who created various animal figures from balloons. He invited a child from the audience on to the stage and asked if she could sing or recite to earn one of his creations. She opted to sing and boy! Could she sing. Her name was Julie Andrews. North country comedian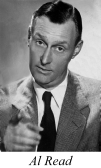 Al Read had a show "Such is Life"at the Adelphi. In the supporting cast was a young girl billed as "Britain's latest singing star". Her name - Shirley Bassey. Both destined to become Dames. Another star of the future, barely unheard of at the time was a regular at a theatre tucked in to a side street just off Piccadilly Circus which proudly boasted that it never closed (or was it clothed?) During the war years. Patrons were warned against climbing over the seats. Not the sort of place that I would normally frequent but I did go to see him. None other than Bruce Forsyth.
The Palladium brought over a number of top American stars to top the bill and I was fortunate to see Bob Hope, Dorothy Lamour, Mickey Rooney and Guy Mitchell. In one such show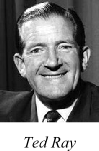 Ted Ray, a comedian who played the violin was indisposed. A note in the programme advised that his spot would be taken by a rising star, making his first appearance at the famous theatre - Max Bygraves.
From stars of the future to stars of the past. In 1961 I shelled out 35 shillings which was a lot of dough in these days to see Sammy Davis Jnr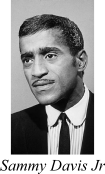 at the Prince of Wales theatre. Billed as the world's greatest entertainer he certainly lived up to the title. At one point in the show he appeared in a straw boater presented to his father by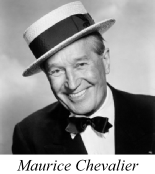 Maurice Chevalier. He then gestured to the audience and an elderly gentleman a couple of rows behind me stood up to take a bow. The famous French entertainer himself who would have been in his early seventies at that time.
When I did decide to dispose of my programmes, some dating back to 1945, I contacted comedian and actor Roy Hudd who was then appearing in Coronation Street as I knew he had an interest in theatre memorabilia. He replied that if he brought any more into the house his wife would be likely to move out. I can confirm that no such pressure was exerted on me when I disposed of my collection.
Bob Macdonald