Last date for submissions
30th April 2022
Date of publication
1st June 2022



A BURNS SUPPER TO REMEMBER
A BURNS SUPPER TO REMEMBER
By the time that this issue goes into print many of us will be looking forward towards the Burns Supper. I often look back with fond memories of the first Burns Supper I attended back in 1963. During a meeting of the office bearers of the Masonic Lodge in Stanley the previous year, David Stein, the Right Worshipful Master proposed that we should organise a Burns Supper. At that time the White Heather Club was at it's height on TV. David's wife's sister had gone to college with Laura Brand and he thought that she might persuade her to come along. Almost as an afterthought he added "Why don't we try and get Andy Stewart". The Secretary was accordingly instructed to contact Andy which he did. Andy replied that although his usual fee would be beyond the means of the Lodge he was sure that they could come to some mutual agreement and a deal was struck. Despite never having attended a Burns Supper I found myself landed with the task of proposing the toast "To the Lasses".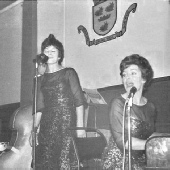 Meantime Laura had agreed to come along with sister Anne. Add accordionists Micky Ainsworth and Jimmy Blue and you have the makings of an all star cast. The rest of the bill was completed with amateur entertainers from the area. My "Toast to the Lasses" was replied to by Nurse Morrison from Bankfoot who referred to the number of times , in her role of midwife, she had come to the aid of helpless men when their wives went into labour, one individual no fewer than ten times! Quick as a flash, father of five Andy commented "Gie me anither five years". In attendance was Nurse Maggie Robertson, aged 93, who had served the Stanley area in a similar role for many years. Andy serenaded her with "When you and I were young Maggie"and there was hardly a dry eye in the house. This grand old lady lived on to reach her century, no doubt with fond memories fo that evening.
I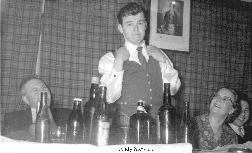 n addition to addressing the haggis Andy entertained the capacity audience with songs and monologues including "The Moose's reply to the Plooman" plus a poem which he had written describing what had happened to Soutar Johnnie after Tam had departed on his trusty steed. It was a hilarious account of how, in his inebriated state he had ended up in the wrong house, in the wrong bed with the wrong wife. How I would love to hear that poem again at the Abernethy Burns Supper. Andy declined to accept the fee which had been agreed. Not only that, he promised to return the following year and provide the entertainment.
He was as good as his word and in addition to Micky and Jimmy brought singer Sally Logan and dancer Dixie Ingram who was married to Andy's wife's sister. Andy was no stranger to the area having attended Perth Academy where his father was a teacher. He later accepted the invitation to be made an Honorary member of the Lodge. Sitting beside him on that occasion prior to what was a fairly simple ceremony I could not believe how nervous he was. His untimely passing at the age of 59 deprived Scotland of one of its best and most versatile entertainers.
Bob Macdonald