Last date for submissions
3oth April 2021
Date of publication
1st June 2021



JOHN WILKIE
1912- 2005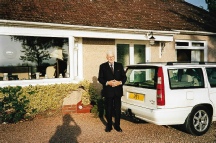 If there is one native of Abernethy who surely would have qualified for a slot in the 'Crier' as an 'Auld Abernethian' had he still been alive, it must be the late John Wilkie. The words of the theme tune to the long running Australian soap opera composed by Tony Hatch and Jackie Trent could well have been inspired by him. Our next-door neighbour at Linden Brae for many years, he had all the qualities of a good neighbour. In his younger days John worked as a chauffeur handyman for James Wishart who lived at Pitarrow in Perth Road. When Mr Wishart passed away, he left a legacy to John which he later used to build Linden Brae in the early 1960s, having purchased a plot of land from my late mother in law Jane Morris. This was prior to my arrival in Abernethy in 1964 when I married Jane's daughter Isabel. He was a deeply religious man and was very much involved with the group which worshipped in the former Gospel Hall in Main Street. They would all gather at John's house later in the day. In those days we would never cut the grass or hang out washing on the Sabbath, a habit we still tend to adhere to, to this day. In the early years of our marriage when we stayed at Loanhead John would regularly collect my mother-in-law's Courier from Norman Peddie's shop and deliver it to her. On one such occasion - a bitterly cold morning - I was having difficulty starting my Austin A35 which in those far off days was by means of the starting handle. When John arrived with the paper I had barely enough energy left to wield a pen, let alone a starting handle. A couple of cranks from John and the engine roared into life. My feeling of inadequacy was replaced by one of gratitude. I like to think that my earlier efforts helped to pave the way for John's success. Always smartly turned out he regularly helped out in providing transport for hospital appointments for those who had no other means of getting there. He was also handy with a chainsaw and when a tree at the foot of his drive was blown over, he was quickly on the spot. The fact that it brought down electric cables did not deter him despite our advice "leave it to the Hydro board". On another day when felling a large conifer tree in his drive his tactic of tying a rope to the tow bar of his car to ensure that it fell in the right direction sadly misfired. Fortunately, a high hedge prevented it from flattening our garden shed which did not escape completely as it still has a list to port.
One of John's sisters who was unmarried stayed with him for some time and he decided to change his car for one which was more suitable for her as she was restricted in her movements. The car that he was disposing of was bought by Bill McCue the well-known Scottish singer. Bill invited John to have lunch with him, but John declined as he had arranged to visit his other sister who lived in the same area. "Don't worry" said Bill, "It would only have been mince and tatties". Shortly before the marriage of our youngest daughter Moira in 1998 John, who had received an invitation, called round one afternoon to ask about the deadline for a reply as he was planning a trip down to Dorset and was not sure when he would be back home. He suggested that perhaps we should sit down as he had some news for us. The shock news was that the reason for the trip was that he was getting married. He was then 86 years of age and had met the lady in question when stationed in Dorset with the Pioneer Corps during the war. Isabel gave him a hug and informed him that for all these years he had been a good husband wasted. We then insisted that if they were back in time, he should bring his new bride to the wedding. This he did and we met Sylvia or Syl as John referred to her for the first time. It transpired that they had kept in touch for all these years. Some weeks later when driving down to the village we came upon John who was cutting his large laurel hedge accompanied by Syl who was in charge of the wheelbarrow collecting the clippings. I could not resist winding down the car window and remarking, "So the honeymoon is over".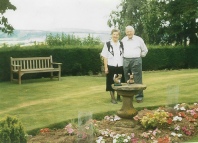 Some years later, conscious of the fact that if he passed away Syl would be isolated from the village, he put Linden Brae on the market, and they moved to a retirement complex at Lesmahagow in Lanarkshire. Despite the distance he made regular trips back to Abernethy to keep up with old friends. Sadly, when leaving a clinic following a flu jab he fell and sustained a broken hip. He was soon back behind the wheel after recovery but had difficulty getting in and out of the car. This decided them to move back to Abernethy, having acquired a house in Sutherland Crescent in order to be back where he belonged. He was the proud owner of the car registration number GS1 which he inherited from his father. He received regular offers to buy the number but steadfastly refused to sell. One such bidder was a millionaire from London named George Spencer who would call him when he had a new Rolls Royce on order asking him to name his price. Driving up Main Street one day I was astonished to meet a Rolls Royce bearing what appeared to be the number GS1. The following day I saw John in a car with a run of the mill number plate. I could not believe it! It turned out that John's car was in for a service and he was driving a courtesy car. Mr Spencer was indeed the man in the Rolls Royce bearing the number CS1 with the letter C doctored to look like a G. Following John's passing his number plate went up for auction at Thomas Love's sale room in Perth realising the sum of £220,000 which was considerably more than he got for Linden Brae. It was also more than the number JB 007 from the Aston Martin in the James Bond film fetched. The auction of GS1 was featured in the evening news on TV and having recorded it we invited Syl round to see herself on TV as GS1 went under the hammer. Sadly, sometime after John passed away, she was admitted to the Moncrieffe Nursing Home at Bridge of Earn where she still is.
It was typical of John that when he sold Linden Brae his choice between bidders was a family that he was sure that we would get on with and he was not wrong. As the song goes, "Everybody needs good neighbours" and we have been fortunate in that respect over the years.
Bob Macdonald