THE WALKER FAMILY
When Sandy and I were asked if we could write a little story about growing up in Abernethy we were not sure where to start. The village has changed in so many ways. It has grown so much bigger – at one time everyone knew everyone else but that is not the case nowadays. We grew up with a baker, butcher, grocery stores, post office, coal merchant, bicycle repair shop, cobbler, joiner/undertaker and we even had a small branch of the Royal Bank of Scotland, but most of the local amenities have now disappeared.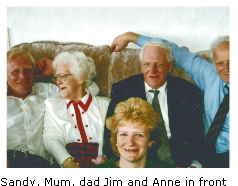 Our dad, Sandy Walker, was born in Abernethy and his mum (our gran) had the small general merchant shop just two doors along from Brian's. Our dad married our mum, a Perth lass Tib Brodie, in the summer of 1942. They started their married life up Glenfoot, where they had our big brother Jim in January, 1946. They then moved into Hall Park where Sandy was born in 1948 and eventually ended up in Den Park where I was born in September 1952.
Our mum and dad remained in Den Park until mum passed away in September 1998. Most of the houses in Den Park in those early years were filled with families, so we had plenty of friends to play with. We would play football in the street, go exploring down the Den and go paddling and guddling for fish. Sometimes we would also go down to Powrie Park to play tennis or climb trees. Sandy would also go camping up the hill with his friends and would get up to all sorts of mayhem! In the evenings we would all sit round our black and white television set. Some of the programmes we enjoyed as a family were 'I Love Lucy', 'The Lone Ranger' and 'Wagon Train'.
We all attended Abernethy Primary School which is now James Roy Court. Luckily the building has been renovated into flats with indoor toilets. We did not have that luxury when we were at school. We had to go to the outdoor blocks in the playground! We were always fortunate enough to go home for our lunch – which was usually mum's delicious homemade soup.
When we weren't at school, the boys attended Cubs then Scouts in the local scout hut in West Park and I attended the Brownies then the Guides in the same hut. Jim and Sandy also attended the Boys Club with the leader Charlie Bates. On Sundays we went to the Sunday School at Abernethy Church. Jim ended up being an elder at the church and I joined the church choir under the direction of the Rev. T. K. Potts.
Sandy was a delivery boy for the butcher and would get up at the crack of dawn to carry out his deliveries. He would also deliver early morning rolls for the baker, all on his trusty bike. During the summer holidays, we would go berry picking at the local berry growers and during the October holiday we would go tattie picking at the local farms. Our dad would always have a week's holiday in the summer and we were fortunate enough to get away to Aberdeen with the family caravan. When we were older, we would go to Butlin's at Filey.
For as long as we can remember, there has always been a Gala Day, which in the early days was opened by the Abernethy Provost, and for a good few years the Gala would take over an entire week with the events ending on the Saturday with a procession of floats round the village ending up at Powrie Park. There would also be a dance on the Saturday night where all the locals would come together to celebrate.
We were fortunate enough not to have to leave the village for entertainment when we were growing up. There were dances every weekend in the Abernethy Hotel and occasionally the Williamson Hall. The most famous act at the hall, that I can remember, was Peter and Gordon; anyone younger than sixty probably won't remember them! The hotel also had afternoon teas to die for, which were introduced by Margaret and Randy Wallace when they took over ownership from Mrs Jamieson.
We all went on to marry and had twelve children between us. You can blame my brothers for the majority of them; I only had two! Jim left Abernethy with his wife in 1967 to live in Perth; sadly we lost Jim in 2001. Sandy still resides in the village with his wife and will never leave. I moved to Scone last year with my hubby to be closer to my children and grandchildren, but a part of my heart will always remain in Abernethy.
Abernethy was a very happy and friendly place to grow up in and I'm sure it always will be.
Anne Millar and Sandy Walker