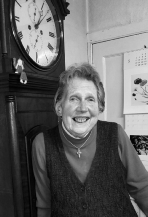 There are some residents of Abernethy who have given long and sustained service to the Village. This series is going to highlight some of their memories and achievements.
Janet Paton is a link to auld Abernethians going back in time through the centuries.
The family lived in Abernethy since at least the 17th Century. They later lived in the house that is now Mornington Cottage and the present Museum of Abernethy was the farm buildings.
Two brothers, Robert and James, went to sea during the Napoleonic Wars as Naval Surgeons. In those days ship's crews were paid Prize Money for sinking or capturing an enemy ship. An eighth of the value of the Prize was shared between the Ward Room Warrant Officers; typically the Surgeon, Purser and Chaplain. Sea battles of the Napoleonic Wars included Trafalgar, The Nile and Camperdown and when Robert and James returned to Abernethy they had enough Prize Money to build houses. Robert built his house in 1806 and called it Mornington, a family name of the Duke of Wellington, and James built the almost identical Guthrie Lodge in Newburgh.
Mornington had a bathroom and plumbing added in 1917 and this is still maintained by Taylors of Newburgh .
Windows were added in the roof in 1957, the International Geophysical Year. Janet's father was Professor of Meteorology at Edinburgh University and a grant was given from the Royal Society to make an Observatory in the attic to further his ground-breaking research in noctilucent clouds.
Janet was born in the house and has seen many changes.
Abernethy Main Street had a police station and fourteen shops. The Post Office sorted and stamped its own mail. There was a Gas Works at the end of Clunie Street with a huge tank.
During World War 2 there was a Polish Camp at the Williamson Hall and the soldiers gave Balls at the Hall. These were popular with the young ladies of the village as the Poles were polite and charming.
On Back Dykes and elsewhere in the village the weaver's houses had looms downstairs and outside stairs to the living space above. These were lost in Back Dykes in 1965 when the road was widened and the front gardens went as well.
The old Abernethy Hotel was home in the 1950s to a famous pig called McGinty who was a great attraction to visitors..
Everyone in the village was involved in berry picking and the end of this is one of the biggest changes to village life. The other is that people go outside the village for goods and services.
Janet realized an ambition when the Museum of Abernethy opened in 2000. She is concerned that more volunteers are needed. The Museum is fascinating to visit but research into Abernethy's history is a vital part of its remit. It is very good to have this resource in the village to document the changes in the village and how they reflect wider changes in society.
AH