AULD ABERNETHIANS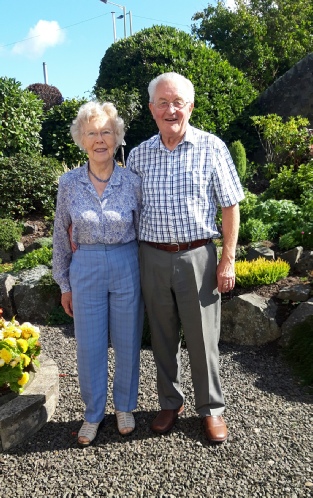 Although neither Alison nor Donnie Smart were actually born in Abernethy, Alison came here as a tiny baby. She was born Alison Morren in Tarland in 1938 where her father, Willie, was the postman. The family moved to Abernethy later that same year and were allocated one of the newly built houses in Hall Park. She attended Abernethy School and Perth Academy. She began working in the huge Tayside Floorcloth Company at Newburgh, firstly in the office then in the lab., gaining an HND in Chemistry at Dundee Technical College.
Donnie was born in the Gardener's Cottage at Rumgally House, Cupar in 1932. His father , Andrew became gardener at Bonnington House, now Jupiter Artland, near Edinburgh and the family lived in the gardener's cottage there.
In 1942 a decoy airport was set up in the fields behind the house. This was obviously successful as two German bombs were dropped on it. The sight of his family being flung out of their beds by the blast in the middle of the night was enough to convince Andrew to leave his reserved occupation and enlist in the RAF. Here he drove 'Queen Marys', large vehicles that transported aircraft from factory to airfield.
The family had to leave the tied cottage and went to Skye to live with Gaelic speaking grandparents. The one-teacher school taught in English but the language of the playground was Gaelic and Donnie soon became bi-lingual.
After the war family connections brought them to Abernethy. His aunt, Madge, had been in service at Carpow House and his uncle, Hector MacAllister lived at Barmore on Main Street and ran a haulage business where his father worked. The stone they transported from Newburgh Quarry went to build the dams at Pilochry and Tummel and construct the Secret Bunker in Fife.
They lived at Dialfield on Back Dykes, now replaced with new houses, and Donnie was a pupil at Abernethy School until he was apprenticed as a bricklayer. There was no transport provided and he had to cycle to jobs, even as far as Madderty!
He had become friendly with Alison through the Tennis Club but at 21 he went to Canada for two years and worked for Canadian Pacific Airways. He returned to do his National Service in the RAF and was posted to Liverpool, working in the Liver Building where the RAF occupied the third floor.
Alison was not attracted to life in Canada so Donnie returned to Scotland. He and Alison were married in1959 at St Leonard's by the Interim Moderator, Hector Houston, as St Bride's had no minister at that time. He worked as an animal feed salesman and at Glasgow Airport with British European Airways before Alison's brother, Sandy Morren, asked him to go into partnership in the dairy business in Abernethy and they bought their house, 'The Orchard' referred to less glamorously in the deeds as 'Nettle Hole'! Alison ran a Milk Bar on Perth Road for four years and then went as a Lab. Technician at Perth Grammar School until she retired.
Donnie and Sandy ran double M Dairy for 35 years until Donnie retired at 60 and Donnie's son, David, took over the business with Sandy's son, Alan. Donnie and Alison built a modern bungalow in the grounds of 'The Orchard' . Their two daughters, Audrey and Elaine are planning to build their own houses there.
When they were in business they had few holidays but now they have travelled all over the world. They are keen gardeners and Alison is an expert seamstress. She made kilts for the children for the Gaelic Choir and the menfolk of the family as well as producing intricate embroidery. Donnie enjoys wood turning. Walking has been a passion that Alison and Donnie have enjoyed all their lives. They are not 'Munro Baggers' but they have been on the high tops many times. Alison and like minded friends founded the Abernethy Walking Group.
Donnie was on the Kirk Session for 35 years and the Town Council for four years until its demise. The most contentious task for the council was the allocation of housing which could cause tension and resentment. The council employed a well respected Town's Officer, Bob Johnson, who cleared drains, swept streets, weeded and took a pride in keeping Abernethy tidy.
He thinks the biggest improvement in Abernethy took place when the village was connected to the mains water supply. Before then water came from a tank just below the quarry at Loanhead which was fed by burns and could be contaminated from anything that was dumped or fell in. It was treated with hyperchloride. This was drip fed into the tank and would build up overnight so the water would not taste very nice first thing in the morning.
You will agree that 81 and 74 years residence in Abernethy definitely qualifies them to be Auld Abernethians!
AH