I was born in 1949 in 7 Den Park, Abernethy, the third of four children. Doctor Tullis attended my birth and I was named after one of his daughters, Aileen.
My earliest memory is of moving two houses away from number 7, to number 11 Den Park, where we had an extra bedroom. I remember carrying a small black shovel along to our new house. I was three years old.
My parents were Margaret and Willie Sutherland. My dad was an only child and my mum was one of nine children. They grew up in Abernethy and knew each other all their lives. Mum went into service when she left school at fourteen, dad left school at eighteen and served his apprenticeship with the GA in Perth. They both volunteered for the RAF in 1940, and they were stationed at different locations in the UK. They married in 1943 just before dad left for Burma where he remained until he returned home from Singapore in 1946. He joined his father who was a blacksmith and farrier in the newly built Tower Garage in 1947.
My parents went on to have four children Margaret, Billy, myself and Maureen who all went to Abernethy Primary School. Margaret, Billy and Maureen went to Dunbarney Secondary School, and Maureen attended Perth High School for a further year which she hated!
Family Christmas was a happy time at home. I remember one year our Christmas tree caught fire, but luckily we were at home at the time and it was quickly extinguished. My favourite present from Santa was a doll's house which I treasured, and later a Beatles LP which I just happened to "find" in mum's wardrobe. I played it when mum was out before Christmas; I never ever told my parents that! I read lots of books at that time, the Famous Five and Chery Aimes amongst others.
Margaret married David Cole in 1968, Billy married Evelyn McDonald in 1970, Maureen married Alex Greig in 1974 and I married Ogilvy Webster in 1972. Margaret and David lost their beautiful wee boy in 1975 and she lost her lovely husband in 2002 but she found happiness again when she met Welshman Eli Davies on a cruising holiday in November 2005. Maureen passed away in 2006, followed by her husband soon after. Margaret still lives in Abernethy and also Kevin, her son, and his family, as does my brother Billy, sister in law Evelyn and their boys, Billy, Scott and Roy and their families. Maureen's girls Katy and Ashleigh, now live in Glasgow and Perth. Ogilvy's mother Elizabeth settled in Abernethy before her passing, and his brother Allan and his wife Elizabeth started their family here and their daughter Lynn and her family now live in Milnathort.
Margaret and Maureen both worked in administrative posts; Margaret was the matron's secretary at Bridge of Earn hospital and Maureen was secretary to one of the Nurse Managers at Murray Royal Hospital. Billy served his apprenticeship at Tower Garage, and worked there as a mechanic. He was also involved with the caravan site and berries. He still drives one of the school busses for Earnside.
Mum and dad were married for fifty nine years, and were happiest when they had their children, grandchildren and great grandchildren around them. Their four children brought them nine grandchildren and five great grandchildren. Julie was their first granddaughter after six boys, then two more girls.
Dad served on many local committees, and started the first Gala Day, while on the hall committee. This progressed into Gala Week. Mum loved the SWRI. They were both keen gardeners and loved being together. We were a happy proud family. Mum passed in 2002, and dad never got over that, he passed three years later.
School days at Abernethy Primary were very happy for me. We all knew each other, had separate playgrounds for boys and girls, relatively small classes and went home for lunch. We all walked to school, no dropping off at school gates and no lollypop ladies. Many's the time we had to squeeze past Bett's horse and cart, delivering coal in School Wynd! Mrs Martin was the primary one teacher, who I thought was a bit scary! First impressions of my first teacher stayed with me. I liked Miss Rollo, and headmaster Mr Vallance. We always had lots of music and singing in his class, I learned to sing the descant to 'The Lord is my Shepherd' in his class. I remember filling up the ink wells on the desks and I also remember the small frozen bottles of milk thawing under the radiators which put me off milk for life. I was sports champion two years running there and did well academically, so I was happy with that! I went to Perth High School for my secondary education. We got the service bus from Abernethy into Perth then the city bus to Muirton. We didn't have induction days then, or a mentor to see that we were all right. It was such a big change going from a wee village school to a huge secondary school where we hardly knew anyone. However, confidence was built and new friendships made.
In fourth year, we had a school trip to Paris, my first time abroad, and I enjoyed it very much. One of my friends met a sixth year pupil on that trip and they ended up getting married! My favourite teachers there were Mr Young, science, and Miss McWhirr, anatomy and physiology, and these were my preferred subjects.
After six years at Perth High School I went to Glasgow to university to train to be a Physiotherapist. I shared a flat in the West End with three other girls, one of which I had become friendly with in my last year of secondary school, and we have remained friends to this day. I liked the Glasgow people very much, they had a great sense of humour, very friendly and ready to chat, but my liking was not so great when I caught nits from a patient and had to be sent home for my mum to deal with the pests. I attended many different hospitals in Glasgow for training and I can remember an area where the cadavers were dissected. That was quite eerie to begin with.
I had a very happy childhood in Abernethy. We had lots of places to play. In summer time we headed to the park, where we played tennis and rounders, with what seemed like every child in the village in two teams. We frequented the den too, where we tried to catch sticklebacks or baggy minnows in the "Bally" burn. We built dams in the burn, climbed the "wall of death" or headed further upstream to paddle. We walked up to the witches' cave, camping overnight in a tent up Gattoway Hill. We were always outside enjoying the long sunny days we had then. We picked berries in the summer, gathered tatties in the October holidays, and planted tatties in the Easter holidays. It was a way of life for most families, and certainly didn't do us any harm.
When my sister Margaret was eight, she fell ill with pneumonia. Dr Tullis advised some sort of physical exercise to improve her lung function, and that's how the highland dancing started! Very soon after that all three girls were involved and it played a big part in all of our lives. We travelled all over Scotland to the Highland Games in the summer months. We entertained at concerts, old folks treats, and went to Bridge of Earn Hospital on Christmas Night to dance.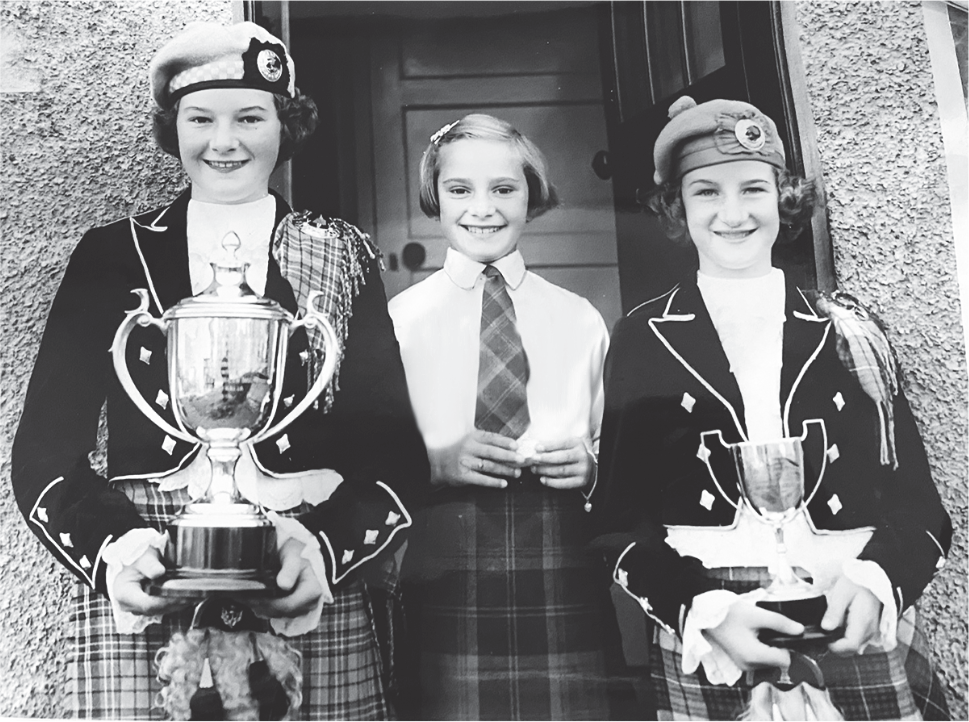 What with dancing lessons and practice sessions, we had quite a busy time. Maureen and I used to not take things quite as seriously as Margaret did and would frequently get into trouble for laughing at the practice sessions! We were very successful and all the hard work paid off. We were all placed in World Championships and won many Scottish Championships, which took place at the Cowal Highland Games at Dunoon. I can proudly say I won the best dressed Highland dancer there for seven years in a row. My best memory was the spectacular march of the thousand pipers and drummers, and my worst is when I caught my Irish Jig skirt on the door of the van ripping it half way round, more repair work for mum!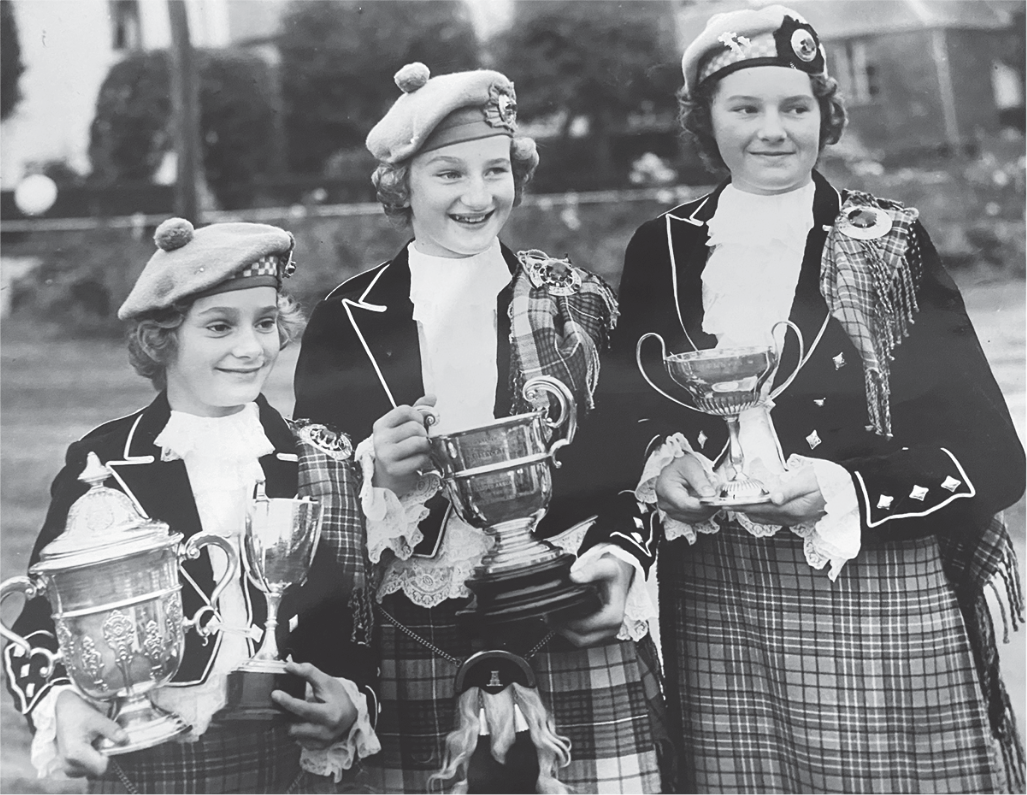 In my early teenage years I went to the youth club in Abernethy. We went to an organised trip to see the Rolling Stones in Dundee, and went by train to Dundee to see the Beatles. A few of us went from school, including my now sister-in-law Evelyn. We had such a great time and got so excited that we broke our seats in the Caird Hall! Peter and Gordon actually came to Abernethy, and did a concert here and we got to meet them, in person, at the garage . The Kinks and PJ Proby came to the City Hall in Perth and we went to see them too. We had record hops and dances in the village hall and frequented the café in Newburgh on Sundays, which my dad seriously disapproved of!
I met my husband to be, Ogilvy Webster, at our local youth club in the village and we had our first "date" at our local bonfire night here in Abernethy. He was born at Enochdu near Bridge of Cally in 1947 but he lived at Glentarkie at the time we met. He worked with Sandy Walker and his father, who was manager at Bell's Quarry. A year later he was on his way to work when he had a serious motorbike accident in which he nearly died. That was the end of the motorbike. We were married in 1972 and have two children. He was regarded as an incomer then, and remains so to this day! Nick was born in 1977 and Julie was born in 1980. Prior to Nick being born Ogilvy went into business in partnership with his brother Allan initially doing small contracts then larger farm buildings. After many years in construction they then decided to open a builders' merchant with one depot in Abernethy and one in Milnathort. They went back to their roots renovating old properties into homes, and doing some new builds too.
I qualified as a physiotherapist in January 1971 and started my first job in Bridge of Earn Hospital in February of that year. It was a very happy hospital to work in and we had a great team of twelve physiotherapists at that time, working with the legendary Miss Welsh. She was a bit of a tyrant but ran a very orderly ship. I loved orthopaedics where the patients were generally well except for having their surgical procedures and I enjoyed working with stroke patients and seeing them returning to some form of independence. W e covered PRI, as well as Bridge of Earn, at weekends on call to help chest condition patients. That for me was the best part of my career. I left in January in 1977, to have our first baby Nicholas, and I was genuinely sad to see the hospital razed to the ground a few years later. When I started working at Bridge of Earn, I was a basic grade Physiotherapist, and when I left I was a senior two.
A few years on I worked at Tayside Nursing Home and then went back to NHS working at Murray Royal Hospital with dementia patients. This area of work could be very challenging, but equally rewarding, requiring a tremendous amount of patience. It's such a devastating illness and can affect anyone at any time. I remember going in to work one morning and meeting a new patient in the day centre. He was one of my maths teachers from High School. My career ended when I retired from Murray Royal in 2012 where I was an advanced Physiotherapist practitioner. I loved my job and if I had to choose again I would make the same career choice.
I got my first taste of Scottish Country Dancing at a class at Abernethy School which was held by Mrs Fraser. I danced for the PHS team at the Perthshire festival. Later in life there was an adult class in the hotel in Abernethy. We entered Perth and Aberdeen festivals and the best thing was the fish supper on the way home! I completed my country dancing teaching certificates at St Andrews and took over the class in Abernethy. In 1990 I joined a Perth group to dance at the Edinburgh Military Tattoo. We had some fabulous nights there over a three week period with capacity audiences and a fantastic atmosphere. We performed there every year until our last performances in 1999. I also taught children at Abernethy Primary School for many years, while continuing to dance myself in Perth, and I currently dance at a class in Newburgh.
Ogilvy was a keen wildfowler and bought a springer spaniel pup and went to gundog training classes in Newburgh with Billy, and George Brown. He worked and trialled his spaniels very successfully over the years and became a judge in his own right. He was asked to be a member of a committee to set up a small country fair, which was held at Halliburton Estate near Coupar Angus. Through the committee's hard work a small beginning developed into the Scone Palace Game Fair that we know today. Nick loved that time in his life, he became a mini version of his dad and had all the matching gear! Both our and Allan's families, children, dogs, and buggies were loaded in to the van and off we went to watch the trials…happy days!
Both our children went to playgroup in the village then to Abernethy Primary School and on to Perth High School. Nick's only interest was, and still is, trucks, earth moving and agricultural machinery and that hasn't changed. He drives a class 1 HGV lorry with the Binn Group, and has been there for 13 years. Previously he worked with his dad's and uncle's builders merchant yard. He enjoys going to truckfests, gamefairs and agricultural shows. He has a great sense of humour, a wide circle of friends, and enjoys socialising with them. When Julie left school she went to university at Hartpury in Gloucestershire. She graduated with a BSc in Equine Science. From an early age she was infatuated with ponies and horses. Santa brought her her first pony when she was 8 and that was the start of the fun and games. She loved showjumping and quickly moved up the rankings, enabling her to showjump for Scotland. She gained thirteen caps for her country up to young rider level, before she went to university. We travelled all over England, Ireland and Wales for the internationals and all over Scotland for competitions and qualifiers. She was partnered with Bramble, her 128 cm pony, and Robert Smith, who is Harvey Smith's son, at Olympia where the top twelve juniors and seniors in the UK jumped in pairs, and she was on TV which her grandparents proudly watched at home! She also won the national 138 cm showjumping championship at Hickstead, with her pony Trumount Lad, who jumped his heart out that day.
After Julie left for University Ogilvy and Allan decided to start their own horse breeding programme. They went to Ireland and bought an Irish Draught mare which was in foal. They soon added to the herd, and left the stables in Abernethy to go to Milnathort, then added to the herd again and moved to Binn Hill Farm where there was more ground. They started showing their young stock at agricultural shows both North and South of the border with great success, claiming the best Irish Draught Yearling Colt at the National Breed Show on five consecutive years. They have bred Irish Draughts which have gone on to compete in every discipline, and have sold their horses all over the UK. They have only recently decided to retire, and this part of their lives will be greatly missed.
I see lots of changes in the village, especially how it's changed in size, and now there is so much traffic on the road. Abernethy in Bloom has made such a difference to the appearance of the village with all the seasonal flowers. Nurse Peattie's Garden is beautiful thanks to the volunteers. The opening of the volunteer-led Museum has brought lots of visitors to the area and it's a pleasure to be a volunteer there. The new play areas and remodelled park with the sports pavilion are great assets. Our son Nick, and another young lad, Stuart Bett, as cubs, had their names drawn from a hat to cut the first turf for the pavilion, and my husband Ogilvy, his brother Allan and Allan Gourlay played a major part in the construction of it, along with other cub and scout dads. I feel very blessed to be part of a loving and caring family and we wish, from our family to yours, that you keep safe and well in these troubled times.
Eileen Webster