LINDA DUNCAN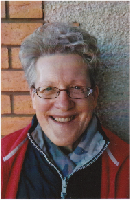 I was born in Perth Royal Infirmary on 7 September 1951 and I lived at Lynburn, 70 Main Street until I married in 1977.
My parents stayed at Lynburn all their married life which was a happy family home. My dad was Andrew (Bunt) Morrison who lived at Pitblae, Abernethy as a young man. My mum, Margaret McGlashan, belonged to Newburgh.
My brother Andrew was also born in PRI on 12 June 1954. We both attended the village primary school which is now James Roy Court.
The class I remember the most was P7 with the headmaster, Mr. Vallance. We used to get 10 mental arithmetic questions every morning and we had to write the answers down in a certain time. Very scary!
One of my earliest memories is that on some Saturdays my mum would give my brother and me 6d (old money worth 2.5p today) each to spend at Mrs Patterson's. We bought sweets but had to keep some for the Sunday. We did not get regular pocket money.
In 1963 I continued my education at Perth High School which was situated where the present Grammar School stands. It was a big change from a small country primary and I suppose I was a bit daunted having to get the local service bus to Perth then walking or taking a town bus. Unlike today, there was no dedicated bus from the village to the school gates.
I liked all my subjects and teachers at Perth High and stayed till my 6th year. I applied to Edinburgh College of Commerce (now Napier) and gained my Dip.Comm. in 1972. After one year at Moray House, I did my two year probation teaching at Portobello High School. In 1975 I transferred to the present Perth High and taught Business Studies for 4 Years. I had met my husband Andy and it was easier to work in Perth. We bought a flat in Glenfarg and then moved to our present house, where we have stayed for 42 years.
Music has been a big part of my life and it all started when my parents sent me to music lessons when I was about 4 or 5 years of age. My teacher was Mr McMorran who was blind. There was always a piano in our house, my dad could play as could some of my aunts. My mum's family had music in their blood too.
During my piano lessons, I was introduced to the church by the minister Rev. T.K.Potts, so I played at Sunday School and then at church services. The first wedding I played at was that of Sandra and Jim Hutchison.
My mum was in the Rural (SWRI) and I became involved if they needed an accompanist for musical evenings. The Tower Singers were formed after a ceilidh in 1982 and Wyn Dobbie was our musical director. We did a lot of village shows, including 'My Fair Lady' and 'Snow White'. We also entertained at the Gala concert. Happy memories!
When I was younger my mum would take us to the berries – Haggart at Earndale, then Ian Bett's. We worked hard and had lots of laughs with the local berry pickers. I also picked tatties at Lister's at Hatton Farm and Stalker's down beside the park. We took our berry money to Aberdeen for our two week August holiday. We always went to the same 'digs' near the Duthie Park. We travelled by train as my dad could not drive. We did not grow up with a family car so it was always the bus or the train.
I can remember all the WRI and Sunday School trips to Arbroath, St. Andrews, Craigton Park and Edinburgh Zoo. The buses would be full of parents and children, often two or three bus loads.
The greatest change I have noticed over the years is the number of cars. Many households have one or even two cars to park in their driveway or on the street but the biggest changes for me in the village are the new school, roundabouts and the new houses at the "Muirs" and "Stephens". I used to go sledging where the Muir houses are built. Abernethy has grown into quite a large commuter village. As you read this article, more new houses are being built in Newburgh Road.
I went back to teaching after an 8 year gap when Graeme was born in 1979 and Fiona in 1982. I was lucky to have my parents to help with the children who were at school. I taught at Perth Academy for 22 years retiring in 2009.
Andy and I are now enjoying our retirement and when it is finally 'safe to go out normally' again we will be booking our holidays abroad.
Linda Duncan