DOWN MEMORY LANE - THE FACTORY
The following is a little bit of history which I came across the other day. It was written by my late husband, Bobby in 1989, about the Clow family and the factory in Abernethy
The Family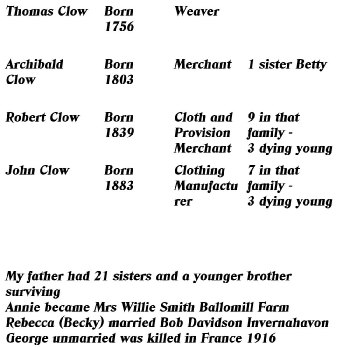 John Clow went to Perth Academy and afterwards was apprenticed to Brydon's Store in St John's Street. After that he went to Glasgow to work in one of the many wholesale warehouses, Mann Byers & Company. This is the period to about 1905 and a taste of the wider world which he never forgot.
His father Robert had got up a General Provision business in 1869, and this included the supply of yarns to the hand looms and sale of the finished cloth. So there was already a connection with textiles going back in the family to Thomas, a weaver who came to Abernethy from Perth
As John was the eldest of the four surviving children and his father Robert not in good health, there is a situation at home even before his father died.
Coming back to Abernethy from the bustle of Glasgow must have seemed a doubtful prospect for my father. A small shop offering supplies on credit to weavers, farm workers and fishers cannot have seemed a way forward.
The Factory - The Early Years
At the back of the Shop and family home (Now Kate Hutton's) there was room for the first workshop making garments. A treadle machine and one machinist, Kate Walker, brother George Clow helping.
When Robert Clow died in 1909 my father was already in negotiation for bigger premises and made an offer for the vacant U.F. Church. So there is a chance to install power driven machinery from 1909. The photostat from the Sandeman Library is not clear, but there must have been fairly rapid expansion. I can count 24 girls.
I think they made cotton underwear, blouses and some babywear. Business must have been interrupted by the 1914 war and possibly some hospital contract work was undertaken.
I begin to remember something of the factory about 1923, being allowed in to see what was going on, running about and being a pest, getting too near the pulleys and moving parts.
In these days, before going to school , it would all seem. warm and wonderful. The smell of the engine, the gas light, the teasing, the girls singing at their machines and special occasions like the week's holiday when there was jelly and ice cream got in from the Hotel. I would be spoiled no doubt.
I got taken along to the Factory Charabanc Outings Coleen Kemp was my best pal right along the years.
During the 1920's the factory took on its real manufacturing characteristics There was new machinery to assist and new ideas coming along. Although chemises and some underclothing were still produced, the new embroidery machines were being used to great effect on nightdresses and especially children's sleeping suits and pyjamas. Big multi-coloured embroideries and fancy effects like hemstitching and machine scalloping, and artificial silk had come along both for shiny thread and basic material.
From being tied more or less to flannelette and cambrics, the newer and finer qualities of winceyette and twill woven Viyella mixtures were on the market and viscose rayon fabric plain and printed. Although printed cloth was used more for pinafores with bias binding trim.
The markets to take up production were centred on wholesale distribution. Huge businesses in Glasgow, Manchester and London, with agents in these centres showing factory samples. Leicester was also a big Midlands market.
The management was my father and Miss Kemp, Coleen.
By the end of the twenties it was clear that a better work area was needed and a stsrt was made to go out at the back of the original church building by buying ground from the McAllister family. Also mains electricity had arrived.
The layout of the new factory remains more or less as it is today although of the 40 odd machinists about half would be embroidery, bias binding for baby wear scalloping. hemstitching and special effects with 20 to 30 at one stage doing plain machining assembly of the garments. Much more difficult seaming in those days as the main seams were" run and fell" and no overlocking to speak of.
Markets in the 30's were still through wholesalers, Campbell, Stewart and McDonald, Arthur and Company in Glasgow with others trading throughout the U.K. ,and the first export market! Both Hudson's Bay Company and Robert Simpson Company of Canada were regular customers for embroidered wincyette nighties and also for the fine wool nunsveiling cloths and mixtures of wool and cotton of the viyella type.
Prices in the 30's were very keen and articles were sold by the dozen at from 36 shillings, i.e. 3 shillings each or 15 pence in today's money
A steady adult wage in the 30's would be around £2 weekly at a time of very low men's wages and there was absolutely no inflation. Everything remained about the same price for years on end.
My father John Clow did not consider himself a courageous man but I think he must have been just that when one considers the circumstances. Abernethy is far from the main centres of garment making and he would have very little capital
The looming shadow of Hitler and the feeling of menace from Germany for the second time depressed him very badly. But he took up the challenge of being local Provost during these very difficult war years.
The factory became a centre of war effort and fund raising and another very fine thing happened. Young machinists arrived from Newburgh and the story of the Company from 1941 onwards was transformed by their youth and vigour and I can tell you plain speaking as well. The story of the factory goes on from this point and Newburgh is a big factor in it.
I am sorry there are not more photographs of the factory and of the people who are part of my early memories. Of course were long serving and very important staff right through to the time I came back in 1945 while many others moved on to other careers and marriage.
Ann Arthur & Agnes Bett -- Cutters
Jeannie Christie -- Machine Mechanic
Christina Edmiston — Forelady at the worktable
Kate Edmiston - Embroidery
Agnes Dutt - Bias Binding – Special sewing - Machine training
Nan Hutton - Warehouse and Invoices
Andrew Haggart - Packing and despatch.
Many machinists who left to marry came back in the 1940 war so it must have been very cheering for my father to see them again and have their help.
The story of the factory in the early years should have been told before 1955 when my father was still alive and I know that The Auld Abernethy Association would dearly like to have better records of the time we are looking at now. Essentially it is the first 40 years of the 20th century. Abernethy still profoundly rural in outlook and reacting to the seasons of the year as the casual work on the land and on the river came round. At the same time let us not forget that before the disaster of 1914 and the loss of so many young men, there had been a lively social scene for those who did not toil for the bare sustenance wage of the time. Abernethy had a Golf Course, a Tennis Club, Amateur Theatricals, 2 Churches going strong with their activities, a very flourishing Bowling Club, Annual Games and Street Market. The Linen Factory of Ireland and Wishart held on until about 1926. So in many ways there was quite a lot of activity.
The Railway was the link until a regular bus service started in the late 1920's. John Clow was endlessly thinking about getting Abernethy into the wider world especially to provide work for men. Abernethy has still not solved that particular problem, but some of the newer contracting businesses are a pointer and I know he would have encouraged every new enterprise. He took a chance himself and made a go of it.
Robert Clow 1989
Hilda Clow