MEMORIES OF A SCOTTISH SUMMER 1976
The heat had sapped our energy; after many delays it was not until late on Saturday afternoon that we summoned up sufficient strength to make a start. As we travelled along in the early evening, it was pleasantly cool and after a few hours on the road a delightful spot was found for us to stay overnight in beautiful Glen lsla. Unfortunately this was only a temporary halt; there was no time for investigating the wonders of the Glen. A long day lay ahead, so after an early rise an equally speedy departure. Soon we were on the main Braemar road; this was left at the Spittal of Glen Shee and we headed for the Dalmunzie Hotel where permission was readily granted for our vehicle to be parked. Now we were within sight of the day's first summit, Glas Tulaichean.
Boots were quickly put on, rucksacks loaded on to backs and the day's expedition really began. The track leading up to Glenlochsielodge was soon found; in fact it led to an old narrow gauge railway that zig-zagged its way around the hill towards the Lodge. It was built in Queen Victoria's time to take Deer Stalkers up to the Lodge. Just before we reached the Lodge it started to rain! It was the first rain that we had had for weeks. Fortunately the partly ruined lodge was not too far away and provided shelter. The rain was soon over and our progress continued; a long slog, ever onward - onward and upward. The air was now getting warmer. It was rewarding for us that the sun was still obscured. At about 2 p.m. the summit was reached, 3449-ft. and 3¼ hours after leaving the Hotel.
A quick wonderful descent followed to Loch nan Eun (The Loch of the Birds). It is the nesting place for Common Gulls and although they are noisy, they are not likely to attack!
The day's trip had hardly started; upwards again to the top of rocky Beinn Iutharn Bheag, back along its stony ridge to Mam nan Carn and then on round to the main summit of Beinn Iutharn Mhor 3424ft. where the views were really magnificent.
Our time was fast running out; 6 o'clock saw us back at Loch nan Eun skirting around its shores. It was wonderful; the skies had cleared and the heat was pleasantly bearable.
The return journey had to be faced, starting by following the course of the burn running out of the loch (the Allt Easgardh) Five miles lay between us and the Hotel and the strain was being felt. Luckily we found an excellent path that soon widened into a Land Rover track and a peaceful walk was enjoyed down a beautiful glen. The Hotel and our transport were reached at 10.45 p.m. exactly 12 hours from setting off! We were extremely tired but the feeling of satisfaction more than made up.
Even though longing for sleep, we could not stay in the Hotel grounds; we had to move. Luck was on our side when a lay-by was found just before the Devil's Elbow, and so to bed. It had been a day to remember.
The following morning we would willingly have lingered but the North-West Highlands were calling and we had to answer their call. Soon we were among the hills; starting with the Devil's Elbow
(which since Prince Phillip was delayed some years ago, has been ironed out) and over to Braemar. Deeside was soon left behind and we were on our way towards Tomintoul. Usually the Lecht Road can be awe-inspiring, even frightening, but this time, in the glorious sunshine, there was warmth and a welcome in the air. A short rest was taken by a delightful river which sparkled in the sunlight and then on once again along that "upsie-downsie" road. . The heat of the day was now intense and by the time Tomintoul was reached, it was unbearable.
It was too hot to linger so on we travelled taking to the minor roads in order to avoid the heavy holiday traffic. A very worthwhile decision as the narrow ways provided an entry to unspoiled, wonderful countryside.
After passing through Culloden, we quickly dropped down into Inverness where a welcome halt was made for much-needed refreshment. Now we were really on our way to the West; the shores of the Beauly Firth were left behind as were Muir of Ord, Contin and Garve as the journey continued. Peter was lucky; he obtained a wonderful sequence of slides of the sun setting over Loch Garve; then on once again towards Achnasheen. Desperation and need forced us to stop for the night in a layby - in all our lives we had never experienced such a noisy night due to the constant flow of lorries making for the oil rig facility at Kishorn.
The next day we moved on towards Achnashellach. About two miles short of that village at a wee place called Craig we obtained permission to use the Forestry Road; so, over the level crossing, on to the track which proved to be quite a good road although rather steep. After about 1½ miles we reached a turning-point. Here we parked the vehicle and complete with our fully loaded packs took to the hills.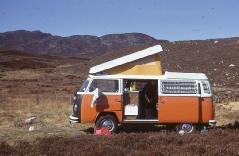 It was a good Land Rover track up to the Lodge; this at least was in our favour as we had virtually to run! The reason? Clegs, those horrible signs of summer! I was covered in the things and it was so hot. Peter said that we would have to put our cagoules on and tie the hoods in order to protect ourselves! I wondered which was worse. Anyway we suffered for about two miles and then had to ford a river to pick up a track that would lead up to the Beallach for the first of our summits.
The car had been left about 8 p.m.; the Beallach Bhearnais was reached at half-past ten. I left Peter pitching the tent whilst I went in search of water.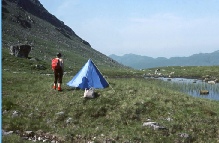 Imagine looking for water in this area of all places - normally the ground would have been sopping. Eventually I found some about a quarter of a mile away from our camp and filled the gallon container. Another day had ended - we do seem to pack a lot into each one.
The sun was as hot as ever as we had breakfast. Food was stocked up to last for a long day as we planned a sort of horseshoe round to take in a few more mountains and so back to the tent - but we had not planned for the weather.
The tent was left at 10.45 a.m.; the first summit involved about one mile of walking over fairly steep ground. In normal circumstances this would have taken us between ¼ and ½ of an hour at the most. Not so on this day; it took us two hours and three stops solely due to the heat and lack of shelter from the sun. The summits of Sgurr Choinnich, Sgurr a' Chasruinn and Bidean an Eoin Deirg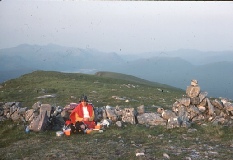 were at last accomplished. We were extremely tired from heat exhaustion and suffering from lack of water. Was this Scotland? All the liquid that we had carried was gone and only half of our trip completed.
It was now 4.30 p.m. and we wondered if we should wait until sun-down before continuing? No, we decided to carry on slowly and as we walked I thought that a desert safari could not be so much different from the conditions that we were experiencing.
We were now descending over very rough ground to the shores of Loch Monar whose waters had obviously receded revealing a caked crust that normally would have been well below the surface. An old track had been exposed by the drought. We thought that it would help us in making our way to the head of the loch. Only a few yards of the track had been covered when I sank up to my knees in black, stinking mud! I shudder to think what would have been my fate if Peter had not been there because as I tried to turn back one of my feet plunged further down and I could not feel the bottom! Peter managed to extricate me without too much difficulty. Nevertheless it was a frightening experience, I was shaking and my boots, socks and breeches were covered in evil-smelling bog. We got to a wee burn eventually and I was able to wash the stuff off my boots. I was so intent on removing the filth that I did not notice my surroundings - I sat down and immediately experienced a wet behind just to add to my discomfort!
A few large boulders had been noticed nearby and we decided to make for them. There we decided to stop and brew-up as it was nearly 5.30p.m. The stone I sat on felt like a storage radiator and by the time we had finished eating my breeches were completely dry, enabling me to rub the now caked mud off.
As we resumed our journey, I hoped that my troubles were over. The head of the loch was reached without any further difficulty and then as we approached the nearby river, we struck some more bog! This time, however, we were able to cross without any mishap. We ran across the river and hardly got our feet wet. That could only have happened in the summer of '76.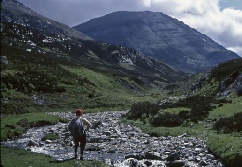 Another boggy bit faced us but that was also managed safely. In front of us now was what appeared to be a vertical grassy slope. Many stops were necessitated before we finally reached the ridge. All was worthwhile, however, as the views spread out before us were truly magnificent.
Now we thought, "We're home and dry" but not a bit of it. I was in front of Peter enjoying an easy stroll up what seemed to be the last climb to the summit when there appeared before me a cleft of about 120-feet, a sheer drop between me and the next part! 'Panic Stations'! So far as I was concerned, I knew that I could not get down without a rope and we did not have one with us! Somehow or other we had to manoeuvre a route to by-pass this latest obstacle. We managed, but not without difficulty and the expenditure of valuable time. So much so that as we reached the summit the moon was fully out and the time was fifteen minutes before midnight!
There was nothing for it but to bivouac on the summit. We found a good hollow which the two of us could get into - just. All the clothes we had with us were put on incuding waterproof trousers, cagoules, scarves, hats and gloves. Our empty rucksacks were laid down to sit on and the wee Gaz Stove was soon heating water for coffee which with biscuits and cheese made an excellent supper - it tasted just great. From our eyrie we looked down on a tremendous panoramic view of Loch Carron with the twinkling lights of Jeantown in the background. It was a magnificent sight that will be for ever etched on my memory. Peter slept well, but, for myself, I dozed fitfully - my complaint being what seemed like a boulder sticking in my back! Our eyrie was on Bidean a' Choire Sheadgaich.
An early morning brew-up of coffee was made at 4 a.m. as we were both feeling the cold (after being burned the previous day). At half-past four the sun was shining and we started to move around. What a wonderful sunrise it was. Peter had already got a splendid picture of the moon reflected on a little lochan at the summit of Lurg'Mhor and now this. We felt privileged and forgot all the hardship that we had endured.
By seven o'clock the heat of the sun was fantastic and we had to keep to the lee-side of the hills in order to obtain shelter. Suddenly: whoo-oosh; whoo-oosh: seven jets hurtled through the air below us! What a sight; looking down we could see the air-crew in each machine. We got back to the tent about 11 o'clock - was it only 24 hours since we had left? A lengthy rest was now called for, so, after a much needed breakfast, we put the double sleeping-bag and spare shirts over the tent in an endeavour to prevent the sun's rays from penetrating and really enjoyed several hours of comfortable sleep.
At about 8 o'clock we broke camp and retraced our steps down the track, crossed the river very easily, on to the main track (a private Land Rover track - very rough) and back to our base camp, the car, which we reached about 10.50p.m. when we lost no time in getting to bed.
A leisurely couple of days followed wandering slowly in the direction of the Torridon Highlands, and finally resting near Shieldaig at a delightful spot overlooking Ob Mheallaidh where we absorbed the beauty around us as we listened to good music on cassette.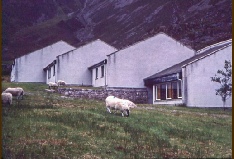 On the second of our "Rest Days" we moved round to Torridon where, in addition to visiting the National Trust Centre, we were given a tour of inspection of the new Youth Hostel by its Warden. What a marvellous hostel it is and in such surroundings. From the dining room-cum-lounge a massive picture-window, overlooks the head of Loch Torridon giving a range of breathtaking views.
The hills were "calling". On the Sunday we wended our way to the car park at the stone bridge behind Torridon House and at 2 p.m. started walking. The aim was Beinn Alligin; this involved a long trudge through midgie-ridden country. We escaped their attention when we picked up a good track leading to the first summit and then on to the main summit. The time had got round to six so we did not attempt the Horns - in any case there was quite a lot of mist about. We returned in good time, especially as we discovered a super track that had been missed on the way -up! An excellent place to spend the night was found at Inver Alligin, complete with a breeze to keep midges away.
On Monday we found the weather deteriorating; rain, thunder, Iightning, the lot. An enforced 'Rest Day" resulted; we moved ourselves round to a good patch that we found near Annat and spent the day organising our equipment and preparing for getting out climbing when the weather permitted. But it didn't.
Sitting out terrible weather can be very boring and it was a relief when a couple of friends joined us on the Tuesday. We accompanied them the following day on a trip on the new road to Applecross, after which our friends departed homewards and we returned to Torridon.
We decided to chance our luck the next day and set out to climb Meall a Chean-dearg (The Bald Headed One). The path was soon found (a first class track which goes from Annat to Coulags). The going was quite good until near the summit, when "The Bald Headed One" came into its own! A summit of completely shattered granite that had to be climbed over or manoeuvred round as best we could. We succeeded in reaching the summit cairn and were lucky enough to get shelter as the heavens opened. There was a howling gale and hailstones as big as golf balls! Getting down was really horrible as I was blown off my feet and slid all over. Peter was like a mountain goat and unaffected by the slippery conditions. Anyway we succeeded in finding a break in the rocks which led diagonally down towards the track and, thankfully, we obtained shelter for a short period from the fierceness of the wild wind. Luck was with us when we found a fairly dry dug-out which provided shelter from the storm so that we could eat. Afterwards, when things eased, we reached the track and followed it to its junction with the road to Annat. Soon we were back at our base and lost no time in changing into dry clothing. It was wonderful to be able to relax: in comfort once again. The weather could do what it liked now - we were home and, at last, dry.
The holiday had commenced in tropical heat; now it was ending with tropical storms as the following day we were returning home. With all its incidents and vivid memories, it had been a holiday to remember.
Nan Campbell