FAREWELL SANDY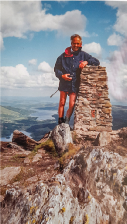 On June 12th the village lost another of its well known and well loved figures; Sandy Farmer.
Sandy was from Leslie and Ann, his wife was from Ballingry in Fife. In 1963 they got married and moved to Abernethy where he went round looking for a steading in which to keep his pigs and happened to ask about Carey which he was lucky enough to get. This meant that Sandy could keep his five pigs there and he could look after them when he wasn't working part time at Balmanno. They lived in a caravan next to the steading for two years and then moved to Carey cottage while building the business. Eventually Sandy was able to buy Balgonie steading and cottage to increase his capacity for pigs and he was later able to buy Balgonie farmhouse building. Eventually Sandy, no longer working at Balmanno, was running 1600 pigs at Balgonie. Unfortunately a bad fire caused such damage at the steading that Sandy decided to run down his pig investment and he retired at the age of 56.
While this must have been a big setback to Sandy he took it as an opportunity to do more hill walking and Sandy being Sandy this turned into Munro Bagging. He conquered all 282 Munros, and some of them he climbed 14 or 15 times. He camped and cycled while doing his hill walking, and was accompanied by his beloved dog. He was truly a "man o' many pairts" and enjoyed music, bird watching, all wildlife and his garden. He also pursued his water colour painting, attending classes at Bridge of Earn, and he was very good at it.
He and Ann took up caravanning and covered all of Scotland. with Sandy using this as a base for much of his hill walking.
Sandy had started playing the accordion at the age of 10 and as a boy he had saved up to buy his own accordion. This love of music remained with him all his life and he played with Perth Strathspey and Reel Society for about 25 years, including touring w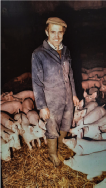 ith the Society in Canada. He played at many dances and occasions in Abernethy and also for the Country Dance class.
At his funeral his son, also Sandy, had written and read his own eulogy to his dad. This is a lovely tribute to his Dad but also a reminder to those of us who knew Sandy of his many attributes.
ALEXANDER ADAMSON FARMER
"SANDY"
Alexander Adamson Farmer, Sandy Farmer. Farmer. That is what he was, but how do you remember him?
Was he husband, father, brother, uncle, friend, neighbour?
He was schoolboy, grocer-boy, radio operator in tanks in Germany, Casanova in Ballingry, motorcyclist, musician.
Do you remember him at the Market sellin
g pigs, or at Smithfield Show? Playing at concerts and dances with the Strathspey Reel Society? Did you tour with him in France or meet him in the Austrian Alps? Is it as dog walker, bird watcher, nature lover or as painter at his art class that you remember him?
Did you pass him on An Teallach, Aonach Eagach Ridge or on The Cuiliins in Skye? He was one of an elite band who bagged all 282 Munros. He greatly enjoyed whiling away the hours playing his accordion, a skill he gained as a boy and retained all his life. His three most prized material possessions were his accordion, ride on mower and deep fat fryer, not necessarily in that order!
He defied medical science, living on a diet of white pudding and chips! And dry tatties! He enjoyed a wide range of cuisine, provided it went with chips! He also enjoyed fruits and pudding, and especially chocolate; dark chocolate. There were not many foods he didn't like, but quite a lot he was just "not too fussy for".
Son of Robert and Jenny Farmer, he gained a strong work ethic at an early age, giving him the drive and quiet determination that he had. He built up a successful pig farming enterprise, giving him a comfortable life, well earned, and affording my sisters and me the opportunities our parents never had. It has been said he was not a man to suffer fools gladly, but as he himself remarked, apart from me, he hadn't come across many!
He lived a long, happy, fulfilling life, at one with his surroundings. He was a good father, never pushy, but not complacent. Caring, but not smothering, always willing to help but not take over. He always gave advice when asked but never unprompted. He was a contented person, a family man.
He enjoyed a lengthy retirement, mum and he travelling and enjoying the opportunities afforded them, free of the shackles of children, and pigs! Caravanning gave them the freedom to go wherever they chose and they did so for many years. He was a keen gardener and smallholder, growing tomatoes in the greenhouse, or tending his flock of hens- tainting the eggs with Jeyes fluid occasionally!
His greatest joy though, his greatest pleasure, his lasting legacy are here amongst us today, his grandchildren. They are his messages to the future. They brought joy and pleasure to him every visit.
He lived well, he loved well.
He will be sadly missed for a long time.
He was a joy and a privilege to know.
He now rests in peace.
A GOOD FRIEND
It was with deep regret that I learned of the passing of Sandy Farmer, a good friend for more than fifty years. Along with the late Dave Stalker, we enjoyed a relationship that few people enjoy when competing in the same business.
One interesting experience I remember with Sandy was our visit to Smithfield Show in London. As the two country bumpkins wandered around Mayfair one evening, we came across Henley's the Jaguar Garage. As it was all lit up, we decided to have a wander round and look at the cars.
Suddenly, while examining the vehicles, we heard sirens wailing and in seconds were surrounded by police. A less than patient officer asked us what we were doing in the garage. We said we were from Scotland and were just having a look round and hadn't realised the place had been broken into! The policeman told us to 'off back' to Scotland. This was preceded by a four letter word which Sandy and I didn't recognise. We concluded that the officer wished us to return to Scotland!
That story was just one of many happy times I spent with Sandy.
Sandy Farmer was a hardworking and outstanding stockman and I consider it not only a privilege but an honour to have had him as a friend.
My deepest sympathy to his wife, Anne and the family.
Ian Miller