A TRUE FRIEND OF ABERNETHY

It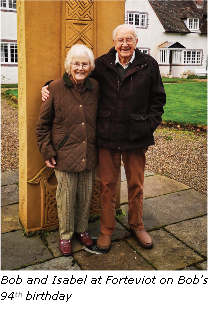 is with a sense of deep sadness that we find ourselves writing about a true friend to many in the village and to the village itself. Bob Macdonald passed away on May 20th after a short illness.
Bob was born on 26th November 1926 in a cottage at Broomhill Farm, Forteviot and moved to Stanley when he was 10 years old. He came to live in the village when he married Isabel on 19th September 1964.
He had many interests throughout his life; football, theatre, horse racing, ice hockey, ice skating, cricket and many others but his greatest gift must surely have been his prodigious memory which enabled him, especially in his later years, to sit down and write extensively about all the occasions which he had experienced, all the characters he had met and all the incidents in which he had been embroiled. He also wrote poetry, much of it lighthearted, but all of it good. He used his interests and memories to populate the Village Crier with many articles both funny and informative, and this seemed to give him the incentive to write his memoirs and publish them in aid of charity. The first volume was published in April 2020 and he was working on the second volume at the time of his death. It is hoped that the second volume will be published posthumously.
Bob was a great asset to the village and served the community in many ways. He was Chairman of the Williamson Hall committee, instrumental in starting the Gala Week and Hill Race, and had a long involvement with the church. In 1965 Bob was invited to become an elder of Abernethy Church and subsequently took on the role of Session Clerk which he fulfilled for many years and was finally nominated for the role of Session Clerk Emeritus, an honour which I imagine does not fall to many.
Bob did much of the organising for various aspects of the gala week, the treasure hunt being one of his achievements. Bob was asked to open the fiftieth Gala Week in 2010 and at the top of the next column are a few pictures of that event. He also composed quizzes for various functions or organisations in the village to help them raise funds and his quizzes were well liked and challenging. Bob and Isabel also helped at the museum and collected for Poppy Scotland.
His writing of his memories of railway trips, motoring holidays, the former shops and businesses in Perth and the former worthies in Abernethy along with his accounts of the theatre, of sporting personalities and events gives an enjoyable and entertaining access to a time which is now long gone and where it seems life was less hectic, more enjoyable and much fuller of surprise. Equally where he writes of his experiences of VE Day and his family motoring holidays we can experience the simplicity and ordered nature of major undertakings, something which we seem to have missed.
Equally his tales of travelling on the railway, whether to Austria or to and in London, show a world which is far removed from today's. Some of us can remember the type of transport he talks of but for many of you it must seem almost like fiction.
Bob always had a great interest in football and of course many famous names were either from Luncarty or Stanley or even Abernethy and Bob knew about all of them and their careers. He was an avid supporter of St Johnstone and could quote incident and statistic on the history of the club without hesitation. How he would have loved to hear that they had won the Scottish Cup and completed the Cup double and were now getting the freedom of Perth for their efforts. Bob also followed Hibs and on his 90th birthday he was treated to a tour of Easter Road which pleased Bob immensely.
Bob's family wrote a poem for Bob's funeral to express their feelings for him.
To pen some words for the loss we feel
May help us through as we begin to heal
But for now this task is too great to bear
Far easier to reminisce our memories shared
A wonderful soul who was honest and kind
The most treasured Dad you ever would find
Always there to guide us through life's winding way
Never judgemental, just the right words to say
Your knowledge was vast, spanning many a theme
Be it sporting or otherwise, you reigned supreme
We've been blessed to have you all these years
So it's understandable we'll shed many tears
As life carries on, you'd not want us to be sad
Our loving and caring most wonderful Dad
Of course Bob had been one jump ahead of us all, preparing his final poem, and here it is.
When the heavenly referee blows the whistle for time
It seems a good idea to say Goodbye in rhyme
I trust you don't think this to be out of place
As I'd like you to leave with a smile on your face
I've been blessed to be granted a long happy life
In the company of most of it with a wonderful wife
Whose love has sustained me in these long happy yearsWhen with the fair sex you get lumbered
It's a fact of life you are outnumbered
To get a word in is very rare
As for the last word - you wouldn't dare
That's why the verses I have penned
To get the last word in the end
So on that note I'll take my leave
Smile as you go and do not grieve
And how typical of Bob to leave us smiling, even at a time like this.
Thank you Bob for all your contributions to the village and, of course the Village Crier. To a true gentleman and wonderful soul, it has been a pleasure to know you.
Isabel, Jane, Anne and Moira would like to thank everyone who sent messages, cards and flowers after Bob's passing. He made the world a brighter place, lived a long and happy life and will be sorely missed.