NOT JUST BRICKS AND MORTAR
After watching a very interesting BBC documentary about the history of a house in Newcastle, I thought it would be a great idea for a new, hopefully long running, article for the Crier. What is the history behind your house.
Just to get it started………………………………………………………………
IVY COTTAGE, BACK DYKES, ABERNETHY.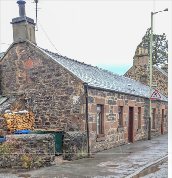 The first entry on the title deeds of Ivy Cottage was on the 15th June 1843 when the land, then owned by James Davidson, was sold to my Great Great Uncle Thomas Greenhill for £40 sterling. The land on the South and the East of this piece of land was also owned by Mr Davidson.
I reckon, reading between the lines along with various other documents, the house and weaver's shop was built between 1843 and 1855. The Valuation Roll gives Thomas as occupying the property in 1855. As you can see, externally, it hasn't changed that much, a few extensions.
Thomas was a cotton and wool weaver and a net fisher during the fishing season. As mentioned before part of the house was a weaver's shop. I can only assume they mean a shop as we know it or was it a building containing a loom stand where he wove garments for sale from his house, who knows? Weaving and salmon fishing were very important industries in Abernethy at that time. You can see how important it was from the fish on top of the flagpole on the Tower. That's how important it was.
Thomas Greenhill was born in Abernethy in 1795 and in 1830 was wed to Euphemia Duncan and they had seven bairns. Knowing Ivy Cottage very well, having lived here since I was a bairn, the cottage of my childhood probably hadn't changed much from Thomas's time, one bedroom, a living room, a kitchen and an outside toilet and of course the shop cum loom stand.
In 1868 Thomas died leaving his property to his daughters Helen and Barbara Greenhill. However, the Valuation Roll of 1875/76 shows the house and weaver's shop is occupied by their brother Thomas Jnr, occupation Salmon fisher. Is he now running the business or just living there?
Is he now running the business or just living there?…………
To put it all into context, when Thomas Snr was born in 1795 it was not even 50 years after the Battle of Culloden.W hat would Abernethy have been like then? In the book "Traditions of Perth" written in 1836 by George Penny, he says of Abernethy "It consists of thatched houses and is more irregular and dirty than almost any inland town of Scotland". On a cauld winters day it must have been a fairly depressing kind o' a place
.In 1868 Abernethy would be noisy with hand looms rattling away in many small cottages like Ivy Cottage. The weavers worked out of their own homes or in a loom shed attached to or in the garden of their cottage. In 1605 handloom weavers were brought over from the Low Countries to Abernethy to improve the skills of the local operators. It was one of the main occupations in the village during the winter months. David Greenhill my great great, great grandfather, one of Thomas's relations, was the last handloom weaver in Abernethy. He died in 1915.
When Thomas Jnr lived in the cottage it would most probably have two rooms, a living room cum kitchen and a bedroom, with a dry toilet at the top of the garden. As a small child over 60 years ago the cottage had changed little: a living room, one bedroom, where my parents, along with myself and my sister slept, a very basic kitchen and a toilet with running water. No bathroom.
Thomas Jnr worked at the salmon fishing during the spring and summer months. He also had a small garden to grow veg and keep a few hens. His sisters who owned the cottage lived nearby in the building locally known as the Bank Buildings, the present day location of Pandora's box.
Thomas didn't last long at the weaving and fishing as he was attracted by the bright lights of Stirling. He had changed jobs and according to the 1871 census he was a railway porter. He was now married to Ann Kiddie from Newburgh and they had four bairns, Jean, Euphemia, Thomas and James Kinnear. Jean and Euphemia were born in Newburgh and reading between the lines, I wonder if he started his railway career at Newburgh or maybe Abernethy stations?
Thomas quickly moved up in the railway company ladder and by 1881 he was Railway Wagon Ticketer, but now living at 47 Commercial Street, Dundee. The family had also grown by two, James and Elizabeth.
Enough of Thomas and his family, lets get back to Ivy Cottage.
The year is now 1912. Unknown to all then there was to be a world war in a few years. However, life goes on in Abernethy.
Barbara has decided to sell the cottage to her nieces Ann and Margaret Greenhill for the princely some of £150. To let you understand Ivy Cottage consists of two cottages, as it still is today, so they were buying two houses for £150. Interestingly, one of the witnesses to the sale was James Wishart, Linen manufacturer Abernethy and Kirkcaldy.
James was an industrialist and philanthropist and was born in Muckly Cottage, Perth Road, Abernethy, it is said the cottage had been built almost entirely from the ruins of the Castle on Castle law. James was a partner in the firm Ireland and Wishart, Linen and Woollen Manufacturers Kirkcaldy and Abernethy. That will mean absolutely nothing to most of you but the company was one of the biggest employers in Abernethy at the time, employing around 100 people, mostly women.o On its power looms the factory produced linen, cotton and wool fabrics (mainly bed linen, table cloths and other domestic wares). The factory started production in 1873 and ceased production in 1930. This was the demise of the hand looms, the looms Thomas and family worked. What's left of the building is occupied by Abernethy Motorcycles and A & B Motors, next to Branston.
The First World War is coming….…….…….….….…….….…….….
It's August 1914 and Britain has declared war on Germany. There is a sense of euphoria throughout the land, "it's nothing to worry about it will be over by Christmas". It was to be the greatest and
most deadly war the world had ever known. Every family throughout Britain will in some way be affected by the conflict.
Ann and Margaret are still the owners of Ivy Cottage, however, Margaret is now married to one of the local business men, baker David Broom, they were married on the 13th August 1913 in the Abernethy Hotel. David Broom served his time as a baker with Alexander and Peter Munro, their bakery and shop was where 27 Main Street is now. David took over that business until he moved premises to where Tower Bakery was latterly. Before David moved to these premises it also was a bakery, ran by the Abernethy Cooperative Society.
The Great War touched nearly every family to a greater or lesser extent, whether it was the loss of a father, son, cousin or nephew. The Greenhill family were very much affected by the war, Ann and Margaret's Cousin John Crerar Greenhill jnr was killed in France on the 29.10.1914, he was 20, he had been a private in the Royal Army Medical Corp. His is buried in le Touret Memorial Cemetery, Pas de Calais, France along with another 13,480 British and Commonwealth soldiers.
Some people are dealt a bad hand in life, the Greenhill family didn't have their problems to seek. John snr lost two bairns in infancy, Jean and Isabella, his wife had died in November 1912 and now one of his sons is killed in the early days of the Great War. John snr's youngest son Thomas had already left for the US and was living in Seattle, Washington. By the time John snr received the news of his sons death he had also left Abernethy and was also living in America, at 907 East James St., Seattle.
Ann Dunn Greenhill died on the 28th January 1923 of chronic rheumitism and heart failure. At the time of her death she was staying with her sister Euphemia and her husband John Sandilands at the "Orchard" Main St., The house on the east side of the Cree's Inn still called the Orchard, as far as I know.
The war is over and life returns to some kind of normality, at least as normal as is possible after such loss of life.
It's 1918 and the war is over and life returns to some kind of normality, at least as normal as is possible after such loss of life. The property leaves the Greenhill family for the first time,
but only for a short while…………….……………

The property leaves the extended Greenhill family for the first time...................
In 1935 Ivy Cottage went out of the family for the one and only time in its history. It was bought by Andrew Muckersie, a fruit merchant from Perth. According to the Valuation Roll for 1935 Andrew owned a number of properties in Abernethy, three on Back Dykes, two of which were Ivy Cottage No 1 and No 2, I'm not sure of the location of the other, land at Maryland Estate, Balmano House and garden, Bonnie Bank, Hatton Road and the estate of Ayton. As mentioned before he was recorded on the title deeds as "occupation fruit merchant." Up to the time this article went to print I could not find any trace of a fruit merchant in Perth with the surname Muckersie, maybe he was a wholesale merchant rather than a shopkeeper.
Andrew Muckersie was a Past Master of Lodge Lindores in Newburgh from 1936 to 1938 and was one of the many instrumental in founding Lodge Round Tower 1429 in Abernethy. Andrew died in 1977 but many years before, in 1945, he sold the cottages back to the Greenhill family to my great aunt Mrs Isabella Henderson Greenhill Johnston, my granny's sister.
Isabella owned and ran a grocer's shop in Tennant Street, Hebburn on Tyne just over the water from Newcastle, a shop she inherited from her husband Harry when he died very suddenly. She continued to run the shop into her old age until it became too much for her, and she decided to retire and sell it.
Andrew Muckersie and Isabella were absentee landlords during this time and the house had been rented out to various tenants.
In 1953 my father (George Swan) and mother (Sheila Scobie) were married and were looking to buy property in Abernethy, and lo and behold Isabella was keen to sell as she was now finding the upkeep of property so far away from home very difficult. Once again the property changed hands, still remaining in the family as my mother was a niece of Isabella. The property was exchanged for the princely sum of £500 pounds, the property being two houses and large garden.
When my parents moved into Ivy Cottage No 1, next door was empty so my grandparents William Scobie and Betsy Scobie (nee Greenhill) moved from Hebburn on Tyne, where they lived at the time, back to Abernethy where they originally came from.
My grandfather died in 1958 and in 1974 my granny moved to a pensioners house in Den Park. She died in 1975.
After Betsy moved in 1974, my father decided to take advantage of the 75% Government grant to put outside toilets inside and at that point the whole house was modernised from a two room cottage with outside toilet to a two bedroom cottage with inside lavi. At that time Susan and I were just married and were looking for accommodation in the village and my father agreed to rent us Ivy Cottage for £3 per week. You have to remember a wage for a junior underwriter in the GA, now Aviva, where I worked at the time was around £28 per week.
Sadly in 1979 my mother died and my father was now on his own. He managed well until he had to go into care, where he is now at the age of 92. Ivy Cottage No 1 is now a holiday let run by my sister Dorothy Haig and Susan and I are still here in No 2 after 44 years. The outside lavi is still here attached to the gable end of the building facing Newburgh, now used as a store, and the rest of the building is still in fairly good nick after 177 years, and is still in the family. I wonder for how much longer.
I hope this article has been of some interest and I hope it might encourage others in the villages to tell us about the history of their property.
Jimmy Swan

Jimmy Swan