NAN
I was born on the 6th March 1931 at 1 Ballochmyle Street, Catrine .Ayrshire, (a cotton town) and was christened in the United Free Church. My mother came from Whittlets which was 12 miles from Catrine. I was sometimes more in Whittlets where I stayed with my great aunt and uncle. They did not have a family. I started school at four and a half and until I left school at the age of 14 years, I attended Catrine Primary, Whitletts Primary, Scotland Street School, Glasgow and back to Catrine in 1940, Cumnock Academy and finally Newton Park Higher Grade School, near Newton in Ayr. In Catrine the headmistress had been my father's teacher and at Whitletts the headmaster had been my mother's teacher!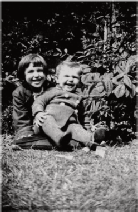 Nan and Billy McEwan Catrine 1935
N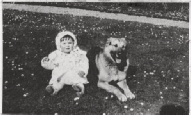 an on the Braes with her
minder Bubbles
When I was about four years old and my brother was just a baby, I remember the police calling one morning and taking my mother away as my father had had a bad motorcycle accident. She had arranged with my father's aunt to come and collect us. Two aunts and an uncle (all teenagers) appeared and took my wee brother and his paraphernalia away while I had to wait on my own till they came back to fetch me.
In 1938 when I was staying with my great aunt and uncle in Whittlets my uncle insisted that my aunt should wake me up around midnight so that I could see the Aurora Borealis. It was spectacular! Something you never forget! Many years later, on a visit to the Dundee Observatory, I managed to speak to the fellow who was giving the lecture, and asked him if I was right about 1938 and he said that was correct; I hadn't been sure it could be seen as far away as Ayrshire.
I vividly remember the Blitz and all that went with it. About twenty years ago, my brother took me to see Scotland Street School (now a museum) where I recognised my old classroom, but it was locked due to asbestos. There was a room sectioned off with war time items on display including the air raid sirens and I felt the hairs on the back of my neck stand up and I felt sick. I also remember that my mother was very frightened of thunder and used to hide in a corner or a cupboard but my great aunt Mary used to tell me not to be afraid of it as 'It was only God moving his beer barrels!'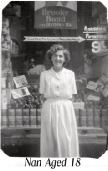 About 1942/43, my mother and brother moved back to Glasgow. I refused to change school again but, although I still didn't want to go, at the age of 14, my father made me move.
My first job was in the counting house of Lyon's Printers and Stationers in Sauchiehall Street where I had to learn the names of the surrounding streets as I had to take various accounts etc. to offices close by. Each day I had to collect the takings from the stationer's shop across the street, bring it back to the cashier who would get it ready for the bank which was at the other end of Sauchiehall Street. This rather large amount of money was placed in a holdall and I had the task of taking it to the bank every day. One day, as I was waiting my turn for the teller, a man came in dressed in white overalls and was looking all around. One of the tellers, who had just come out of the army came out from behind the counter and caught me 'casing the joint' so to speak. The next morning I was summoned to Mr Lyon's office, I wondered what I had done, but it was to tell me that if anyone accosted me, I was to hand over the bag, and at the same time he was going to get one of the boys from the despatch department to go with me. I remember his name was Peter and he swore like a trooper. I kept asking him to stop but he said it was okay as he went to confession and was a choir boy.
I worked in many offices, printers, plumber, and heating engineers. I was very grateful to them all as I suffered from extremely bad eczema on my hands. For three years I had to attend the Victoria Infirmary three times a week to have them dressed and bandaged. I had to wear white gloves to keep the bandages clean. All kinds of treatment were tried, one being penicillin which just made things worse. However, a new Maltese doctor arrived and he suggested we go back to basics. My hands were then painted with gentian violet and each finger was wrapped in a bandage soaked in zinc and castor oil ointment. I also underwent a course of ultraviolet ray treatment. Within three weeks my hands started to heal and at my l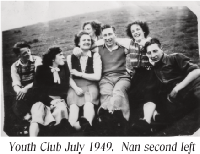 last appointment the bandages were removed and I was told it was the end of the treatment. My skin was like an elephant's hide and coloured a dark violet. I had a problem keeping my gloves on and when I got back to the office I had to relearn how to hold my pen.
I joined the Church of Scotland youth club and played table tennis and badminton. I ended up on the team where we played against other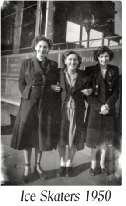 churches. Two friends and I started to go ice skating at Paisley ice rink, Crossmyloof and the Kelvin Hall in the winter.
In 1949, I joined the Glasgow section of the Cyclist Touring Club and shortly after that the SYHA. At first I had a ladies bike but soon realised it was no use for the mileage we were doing so I bought a second hand Claud Butler. I kept a note of the miles we did and discovered we covered a 1000 miles a year.
The group had a ladies choir which visited homes and clubs for injured service men and women. I was an assistant to a man in one of the office jobs I had. He didn't like me and the language he used on the phone was atrocious, so I told the manager I was leaving. Many years later the choir was at Jordanhill College and who was sitting in the front row but this man!!
In 1956 four of us decided to go to Norway so I had to get a double chain wheel fitted to give me ten gears. Ken, Helen, Jack and I all lived in different parts of Glasgow so we met up in Edinburgh and cycled to Newcastle where we sailed to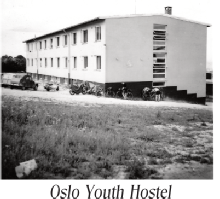 Oslo but would return from Bergen. Unfortunately Jack and I were not good sailors. Helen spent her time putting cold cloths on our heads! I was violently sick during the night so a stewardess encouraged me to eat a biscuit and drink some milk which came straight back up!! I would have been glad if the ship had sunk. It was awful.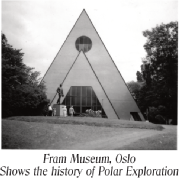 Next day it took some time for me to feel as though I was not at sea but visiting all the 'must see' places helped me recover. We took a train out of Oslo. Helen and I put our saddle bags up on the rack and sat down, but there was still an empty seat beside us. A lady appeared and placed her bag on the rack but it was hanging over. She then rattled something off in Norwegian which we could not understand of course until she said 'Fa on yer heed'! I stood up and turned our bags and her case and she said 'Tak'. Another incident happened when we were climbing the Stadheim Pass.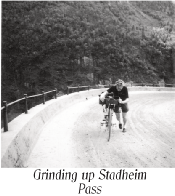 I was up out of the saddle, in low gear when this car passed in the opposite direction and the boys shouted 'Dig in there'! We took the service bus at one stage because of the weather but it was more like a luxury coach which had two steel arms at the front on to which the bikes were fitted. We never had anything like that to transport our bicycles. We were heading for Bergen to spend three days in the Youth Hostel. it was at the top of a funicular railway so we left the bikes at the hostel and used the railway to explore the town. I made sure I had plenty of food in my stomach before I boarded the ferry for the return journey. It was a different type of vessel as the restaurant was self-service and the accommodation was dormitories. However it was very comfortable.
I spent many happy years in the GTC where I met my future husband Peter. Occasionally I cycled with him but he and his brother Albert had a tandem and they were mostly with the Glasgow Road Club.
Peter and I married on 29th November 1958 but that's another story!!
Nan Campbell