Last date for submissions
30th April 2022
Date of publication
1st June 2022



A NICHT O SCOTS FAIRY TALES
The P2, P3 and P4 children of Abernethy Primary School finally got to present their long awaited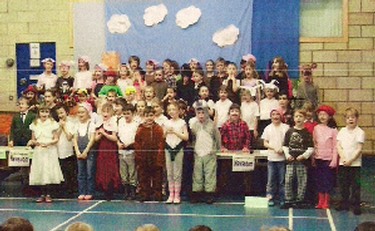 'Nicht O' Scottish Fairy Tales' after it was postponed due to bad weather in December. A large audience of relatives and friends came to the school on the afternoon and evening of 27th January and thoroughly enjoyed the witty version of well known fairy tales in the Guid Scots Tongue.
Primary 2 began with 'Billy Goats Gruff'. The three Billy Goats successfully evaded the green faced Trolls in their 'See-you Jimmy' hats to get through meadows filled with ducks, musicians, trees and a butterfly to get to the other side of the bridge.
P3 performed 'Snaw White and the seven wee men' The hilarious mirror tells the old Queen she is no mair the fairest of them all. So Snaw White is taken to the forest by the guards in spite of wolves and bears. She is rescued by the seven wee men; Luggie, Minger, Big Heid, Glaikit, Crabbit, Nebbie and Greetie, eventually to be saved by the Handsome Prince and his can of Irn Bru.
P4's version of 'Three Wee Piggies' is introduced by singing, skipping piglets before going to the news room where the Newsreader and his Assistants narrate the story happening before our eyes of the wee Piggies, the Scary Wolf and the Wifies and Mannies with their straw, wood and bricks.
Every child had a colourful costume, acted with confidence and enthusiasm and seemed to enjoy the fun as much as the audience.
The teachers involved are to be warmly congratulated for their hard work which included and enthused all the children and made this such an enjoyable occasion.