ARRIVALS AND DEPARTURES IN THE HORSE WORLD
Walkers past the pony field on Station Road have wondered why Bella was by herself on one side of the field. The two boys, Charlie and Mac were together on their side of the tape but Bella had no one to nibble her neck and back . Then on 27th June at 7.30am she was no longer alone as a tiny chestnut foal had appeared.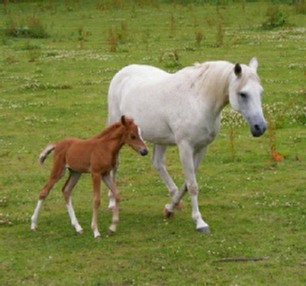 Bella's owner, Kirstie Graham, had been waiting for this happy event with increasing impatience and worry since early June and was with Bella at the moment of birth. The little hoofs are first to appear followed by the rest of the foal contained in a bag. Kirstie broke this bag and saw Flora take her first breath then start struggling to stand on her long wobbly legs. This is instinctive so that new foals can take the first vital feed.
Flora is registered with the Arab Horse Society as Silver Bluebelle. Her sire is a beautiful chestnut Arab stallion, Lebard Silver Blue Sovereign. Flora is quite unconscious of her distinguished bloodlines as she frolics with her Mum. You can go and see her over the wall and Mum, Bella, is happy to accept an ap- ple or a carrot but do not go in the field.
If you would like some of Flora on your garden there is manure in bags at the field gate that you can collect, free of charge, but return the bags.
Higher up the village, at Craiglinn there was a sadder event two days later.
Anne Scott has owned Sparky, a Welsh section A pony, for twelve years and her boys learned to ride on him. He was 29, which is a good age for a pony, and had the chest disease COPD which was making breathing more and more difficult for him. When he lost interest in eating Anne decided it was time to say 'Goodbye' and had a heartbreaking farewell in his own field on 29th June.
She is left with happy memories of Sparky's cute behaviour and her two Arab horses, palomino Claire and grey Smokey.