Last date for submissions
31st October 2021
Date of publication
1st December 2021



RIDERS LOVE ABERNETHY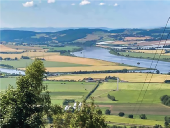 Endurance Horse Riders from Glasgow, The Borders, Lothian and Tayside enjoyed lovely Abernethy views in the sunshine on Sunday, 25th July. They rode up Glenfoot, round Pitmedden Forest then back through the village to complete 22km. They found the hills tough in the heat but were dazzled by the stunning views and loved the pretty village.

The gate-opener at Turflundie thought being up in that lovely spot was nearly as good as riding, especially when she was assisted by the feline resident.
Grateful thanks are due to the landowners who generously gave us permission to ride through their land; Scott Baird, The Forestry Commission and Andrew Herd. Riders were astonished to find themselves going through the latter's garden.
Endurance Riding as a sport starts with rides of about 20km (Pleasure Rides) and goes up to 160 km or 100 miles in one day. All horses are vetted at the start and the finish of the ride with the vet's inspection becoming more stringent and frequent as the distances increase. It is not orienteering so riders have a map and 'talk-round' and the course is marked to help them.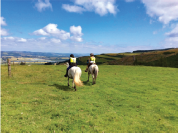 Pleasure riders have to ride between 8k and 11k per hour and longer distance riders, classed as 'Competitive Riders', have higher speed categories to attain. Usually the competitive element is against oneself. 'To complete (the ride) is to win' is the mantra but there are race rides where there is a mass-start and first past the post is the winner. These rides still have veterinary checks, so part of a rider's strategy is to have their horse so fit that they can present to the vet quickly and get back in the race. They are not allowed to carry a whip so the horse has to be a willing partner.
The shorter distances are suitable for any reasonably fit horse or pony. The longer distances are dominated by Arab horses. There is a junior branch with its own camp and prizes.
If you are interested there is a lot of information on the SERC website. You ca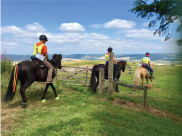 n try a Pleasure Ride without joining SERC. And there is always friendly help available at a ride.