Last date for submissions
3oth April 2021
Date of publication
1st June 2021



FRESH SCONES AND FRESH FACES AT BERRYFIELDS
To the delight of the village Berryfields was re-opened on the 6th of July by partners Karen Gourlay and David Reilly.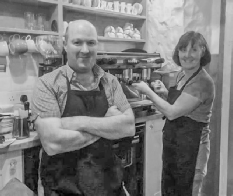 They have lived in Sutherland Crescent for the past eleven years and Karen commuted to Stirling for her job as Customer Supply Chain Manager with a distributor of premium spirits such as Famous Grouse and Jim Beam.
Karen's dream has long been to have her own coffee Shop or Tea room.
When Hazel reluctantly put Berryfields on the market to relocate to Yorkshire with her family it seemed that this was the moment to follow the dream.
Karen and David were delighted to take over a thriving business and Karen has given up her job to manage the running of the business with great input from David, especially at weekends. They are grateful for the support of loyal customers who have continued to visit.
Karen is passionate about scones. They should be so fresh that they have practically just left the oven. Fortunately David is happy to get up early and prepare the scone dough every day while Karen bakes many of the cakes.
I can personally say the homemade soup and bread are delicious and that the Tearoom has kept its welcoming ambience.
Karen and David have many ideas for the future and hope eventually to open in the evenings at weekends. Take-aways remain a popular service and walkers and cyclists are most welcome. Dog walkers can take advantage of the patio and partake of refreshments with their furry friends beside them..
We are all pleased that the Tearoom continues to thrive and wish Karen and David great success in the future.
AH.