Last date for submissions
3oth April 2021
Date of publication
1st June 2021



ALLAN'S CHILLI PRODUCTS
Allan Ferguson is a joiner to trade and is Maintenance Manager with G.S. Brown construction.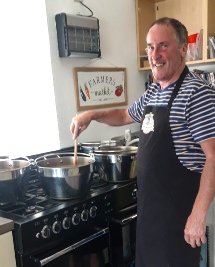 Alan's new adventure began in 2013 when he was enjoying trying a new recipe in his kitchen at The Glebe in Abernethy. The recipe called for Chilli Jelly. He did not know where to buy this so he made his own.
A friend popped by for a visit. She said, 'I would buy that. It's so good.' It was so successful that he made more jars and sold them to farm shops , delis and other outlets. He began the business in his own kitchen but has now converted his garage to a commercial kitchen and produces 12 award winning flavours of chilli jellies and chilli sauces. He now also produces chilli chutneys, award winning chilli marmalade and chilli oatcakes.
He only uses natural ingredients. His apples and pears come from Abernethy and Bridge of Earn. His chillies are now grown for him in Coupar Angus and Joan, his wife, smokes them in her own smokery in the back garden for the Smoked Chilli Jelly.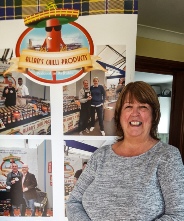 His wife Joan, mother-in-Law Betty Cairns and daughter Emma are all enthusiastic parts of the business
His proudest moment was when he won the Perth Chamber of Commerce Award in 2017 for Excellence in food and drink. He is a regular at farmers' markets, shows and events and has many stockists, the most distant being in New Zealand!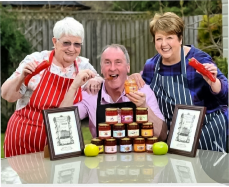 He has survived the pandemic by selling online through his website www.allanschilliproducts.co.uk and having a stand at the virtual Royal Highland Show.
He is grateful for the support from the local community and happy that people ring his doorbell to buy a jar or bottle. All his products reflect the care, love and enthusiasm that go into their creation and bring a little spice and zest to life.
AH