Last date for submissions
3oth April 2021
Date of publication
1st June 2021



A & B MOTORS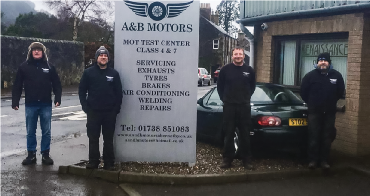 Brian Greig and Alan Stewart used to repair cars as a bit of a hobby from premises on Cordon Road until the opportunity came in 1995 to buy the current premises on Back Dykes in 1995. Working then were Brian, his brother Alex Greig and Alan Stewart.
Brian's son, Scott used to clean cars for his Dad and that sparked his interest in cars. When he was 16 he started an apprenticeship with Nissan in Perth.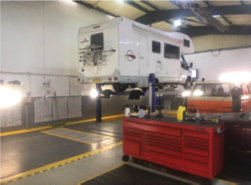 Over ten years he became a Qualified Motor Technician and MOT Tester which gave him the confidence to take over the running of the workshop at A & B Motors in 2008. Brian still runs the business and in the workshop with Scott are mechanic Graeme Ewan and mechanic and MOT Tester Stuart Darling.
The business has just opened the refurbished workshop and MOT Testing Centre. Brian combines running the business with his other function as the indispensable public spirited proprietor of Greig's Stores with his partner Angela Smith and shop assistant Susanne Blankers.
Scott is married to Shona, daughter of the esteemed retired Dr. David Booth and they became the proud parents of twins Isla and Fraser on October 20th, 2020. His passion is Classic Cars and motor sport and he is a keen swimmer and cyclist. Scott finds the best part of the job is working on Classic Cars and the social side which comes from being a business owner in a small garage. The worst part is the long hours and working under wet or snow covered cars as the water always seems to manage to drip down the back of your neck and up your sleeves!
Scott and Brian would like to thank all their customers for supporting them over the years and hope to