GARDEN DAY 2013 AND FUND RAISING CEILIDH
The Abernethy Horticultural Society will be having its Fifth Annual Garden Day on Saturday 21 September. From 2- 4 you are invited to come along to the Williamson Hall for an afternoon of fun with a horticultural flavour - plants galore for sale, local produce to buy and eat, stalls and café. Come and take part in seed swapping. Bring your apples along for pressing.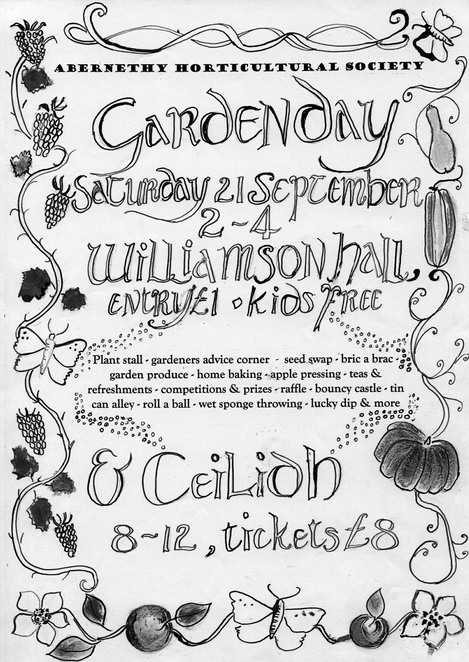 Ask a gardening question or have your tricky horticultural problem solved by our garden doctors. There will be lots of activities indoors and out for kids – try the bouncy castle, have a lucky dip, guess the number of marbles in the jar, try your skill at roll a ball and the tin can alley. We've also got a raffle with lots of prizes and anyone arriving in fancy dress as "something from the garden" wins an instant prize.
We would love you to enter one of our Best in Village competitions:
Age 2- 5 Best potato print pattern (A4 size)
Age 6 – 9 Best lookalike vegetable model of your favourite person
Age 10 + Best logo design for the Abernethy Horticultural Society
and for all ages: Best late summer flflower/fruit/veg arrangement
Best cake or biscuit using a fruit, vegetable, herb or flower recipe
Best jam or preserve
The competitions will be judged on the 21st just before the afternoon events start so please bring your entries along in the morning between 10 and 11.30. Competition entry forms and full details available from Caroline Boyle (Tel: 851190, e-mail: carolinepboyle@hotmail.com) or from the village shop and the Museum. Kids forms will also be available through the primary school.
Entrance to Garden Day costs just £1 for adults (redeemable against annual membership of the Horticultural Society) and kids are free.
The same evening in the same venue frfrom 8 to midnight we are also holding a Ceilidh to help raise funds for our planned Fruit Tree Trail which will be planted through and around the village. Music will be provided by the Dancing Feet Ceilidh Band. Tickets cost £8 and will be available via the Horticultural Committee. Look for full details on posters around the village. Please BYO Snacks and Drinks. Stovies will also be on sale at the break.
If you want to get involved and help on Garden Day or have donations for the plant and produce stalls or would like tickets for the Ceilidh, please contact myself Caroline (Tel: 01738 851 190) or Ian Lamond (Tel: 01738 850 186) otherwise, hope very much to see you on 21 September.
Caroline