THE TWA SISTERS AT BERRYFIELDS
The Twa sisters who have taken over at Berryfields are Liz Munro from Scone and Kathy Gillon from Auchterarder.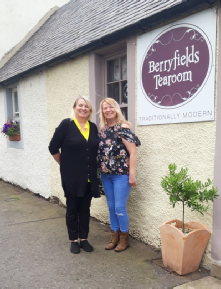 They helped their father set up a café over twenty years ago and have worked in the hospitality trade but never together until they decided to be partners in taking over Berryfields.
Liz is vegan and each day there is a vegan special on the menu which is often ordered by non vegetarians as it is so delicious.
Kathy has a grandson who is lactose intolerant and this has made her aware of different dietary requirements.
Berryfields has always been famous for its scones and these will continue to be made but with gluten-free and vegan options.
Homemade soup remains a staple of the lunch menu and as well as the standard menu there is a regularly changing specials board. As well as the vegan option there are dishes such as Steak and Ale Pie, Scampi, Chips and Peas, Smoked Salmon Salad or Pork chop with Black Pudding.
Sweet tooths will enjoy a wide range of home-baked treats. Victoria Sponge has been specially commented on. There is regular and dairy free ice-cream, gluten free Sticky Toffee Pudding and a famous Triple chocolate Fudge Cake.
In good weather you can dine al fresco on the adjoining patio after ordering in the café.
Saturdays will be theme nights; Spanish , Mexican, Italian and even Scottish. The restaurant will be open between 7-10pm and booking is advisable. With only 30 covers all food is guaranteed to be freshly prepared. No drinks licence means you can economise by bringing your own wine or beer for a corkage fee of £3.
Liz and Kathy are impressed by the real community spirit in Abernethy and are very happy to be part of this. Berryfields is a real asset to this village and we wish the Twa Sisters every success in their new venture.