Last date for submissions
31st October 2021
Date of publication
1st December 2021



MUSEUM OF ABERNETHY
SEPTEMBER 2021
Things are starting to open up again, and by the time you are reading this I hope the Museum of Abernethy is open for business. As I write this article, at the beginning of April, the committee are working hard to get set up for opening. It is very difficult for organisations as well as businesses to plan ahead as over this last year the restrictions have been changing as the pandemic changes.
When you visit the museum you will be asked to make a few changes since your last visit. There will be an entry door and an exit door with a "one way system" operating within the building. You will be asked to wear a mask and there will be a sanitising station at both doors. You will be asked not to touch any of the display cases or artefacts and all the doors leading to the upstairs area and the garden will be open. The toilet will be open and can be used as normal. The shop area will be screened and the volunteers will also be wearing masks.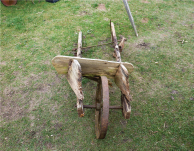 One of the projects we have been tackling is the refurbishment of the fishing net barrow. The old one had seen better days and needed replaced (see "before" photo). I would like to thank Scott Greig, A&B Motors for giving up some of his time to do a bit of welding to the metal work from the old barrow, we were keen to retain it. Thank you Scott. The next time you visit the museum you will see the new finished article.
The Museum of Abernethy is to open on Saturday 5th June 1pm – 4pm and for the month of June it will just be Saturday and Sunday. Be there or be square.
Jimmy Swan