THOUGHTS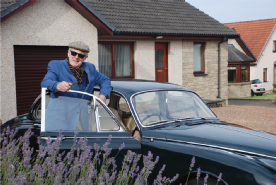 OF AN INCOMER
As Frank Sinatra didn't quite sing, 'Regrets, I have a few, but coming to live in Abernethy ain't one of them'. Of course, it's not perfect, but where is? It was suggested to me that I might give an incomer's view on living here, 17 years clearly being an inadequate amount of time to qualify as a full Abernethian. We moved here in 2004 after I retired from teaching in the west.
(By the way, the photograph here was taken on my 70th when I had the hire of a Mark II Jaguar, at one time the bank robber's car of choice. I wouldn't have got far had I used it for a hold-up, though, as it broke down—twice—but it was fun, hence the louche get-up).
Anyhow, here are a few random musings on 'things Abernethy'…
THE WILDLIFE:
Despite being a new-build, when we moved in our house was already inhabited by another family, of mice, seemingly trapped between floors, whose circular scrambling overhead suggested a 400m hurdles event. An attempt to reassure my other half that they would be harmless field mice was not considered helpful, of course, and they had to go.
Down the slope from our front door was the unfinished building site, and strolling round the area in the quiet of an evening was strangely therapeutic. Rabbits were abundant then, probably due to their warren along the railway line having been disturbed by the development.
These days I see only the occasional rabbit and, curiously, the same is true of buzzards, which used to be commonplace. There are still skylarks, twittering away like demented budgies, and occasionally a song thrush, my personal favourite. Ospreys used to nest in April near the site of Carpow Roman fortress, and maybe they still do. A few years ago sea eagles were re-introduced not far from here, although I've not seen one. At present in the village we have beavers in the Ballo Burn, but in July vegetation in the same area was laid waste due to reports of a rat infestation—not so welcome. Still, there's always the deer, up the hill in summer, sometimes down by the railway line in winter, both locations offering the average fit dog a fruitless chase, like a rite of passage.
ARE THE NATIVES FRIENDLY?
In between laying slabs, and putting up bits of fence and gates to stop the dog going AWOL, getting to know the area was the order of the day. In the course of this I came across—ADVERT ALERT—the Museum of Abernethy, which struck me as a hidden gem. In passing, it has always seemed bizarre to me that some folk who have lived here for many years, or even all their days, have never set foot inside the Museum. Entry is free, folks, its displays are all about the local area, and the volunteers behind the desk are relatively tame, so what's the problem?
Anyhow, in 2004, having no museum experience, I offered to get involved as a gofer or odd-jobber, but soon found myself also joining in the weekly committee meetings, or rammies to be more precise. Stuffy and academic, I don't think so. Most of the Tuesday work team then were former chalk-face workers, and as a result we became known as the 'Retired Teachers' Playgroup'. Put any group of teachers together, none of them reluctant to express an opinion or three, and a lively if not always productive occasion is guaranteed. I felt right at home.
The mix of personnel is different nowadays, but it's pleasing to note that, although we take pride in what we do, the tradition of eccentricity continues, as a visiting pair of museum consultants recently discovered. When they were leaving, they said they felt the afternoon had been enlightening and productive, although I'm sure I overheard the word 'bonkers' as they got in their car.
Continuing the work previously begun by the original volunteers, I recorded the thoughts of some locals on life in Abernethy, and so came across more characters, each with a tale to tell, one or two doing so colourfully (bleeps or asterisks required), which was a delight. On advice, I began with an old lady well into her 90s and known for her knowledge of the village over the decades. Indeed, it soon became obvious that individuals of a very mature vintage were not thin on the ground in the village—another advantage of living in a pleasant rural setting, it seemed to me. The oldest I interviewed was 102 at the time, still sharp as a tack.
In general, given the farming and fishing heritage of the area, the local outlook on life has traditionally tended to be grounded and the humour equally earthy, both being welcome antidotes to our often artificial modern lifestyle with its increasing digitisation. I think Ol' Blue Eyes himself would have approved of the Abernethy characters who did, and do, it 'their way'.
CHANGES:
The extent and variety of significant history both ancient and more recent in the area is amazing. Visitors often comment on this, and it is remarkable, especially when we consider that Abernethy's population was only around 900 for centuries before new housebuilding in the early noughties boosted it to over 1400.
Until recently, in historical terms at least, the village was largely self-sufficient, with plentiful produce and employment on the doorstep. Gradually butcher, bakers, cobbler, joiners, blacksmiths and many others disappeared, as eventually did the rasp fields. And by the time salmon fishing stopped, machines had long taken over from gangs of labourers in the fields.
Even in my time living here there have been several notable changes. Of course, we have lost a fair number of individuals, my wife and my mother among them, and not all of a great age, who have left us for 'a better place'. On the positive side, new generations continue to spring up.
There used to be a week of activities in early June which culminated in Gala Day, with a procession behind a pipe band from Williamson Hall to Powrie Park, a day's events and stalls, a pig roast in the Square at night, dancing and other jollifications, followed next day by the hill race for athletes who had managed to avoid a hangover. No longer. There was the annual Craft Fair, superseded by art exhibitions, both of which dwindled over the years, then ceased. The hub of the village (I've been told) used to be the hotel, now Douglas House, which closed shortly before the new houses started going up. That left two pubs, and now there's just one. The corner shop and the remaining bakery closed some years ago, and the tea room, which changed hands twice in the past few years, is now no more.
On the up side, there's still a general store, a nearby farm shop and two garages, and in addition to such established businesses new commercial ventures have been launched, even recently despite Covid and the ever-changing protocols imposed. And in terms of volunteer activity there's the establishment of Abernethy Community Transport, not forgetting groups, some of long-standing, which have met regularly such as scouts, football teams, Auld Abernethy Association, Abernethy in Bloom, tennis and bowling clubs, badminton, playgroups, zumba and others, Burns club, masons, lunch club and of course St. Bride's Church, 'The Rural' and the Community Council—quite a list to welcome new Abernethy residents.
It is sincerely to be hoped that all the above groups can fully resume as soon as circumstances allow. And of course, it's always worth checking this very newsletter—another volunteer enterprise—to find out what's going on, although word of mouth is often faster. Villages are good at word of mouth, as incomers soon learn.
Angus Macintyre.