WILLIAMSON HALL FETE 2012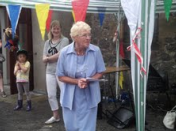 Well it's that time of year again (although the weather would maybe have us believing otherwise!) and the second Williamson Hall "Fete" has been and gone. I am delighted to report that it was a roaring success, despite the slightly temperamental weather. We had a great turnout and the masses were entertained by live music from Stuart McKandie, James Roger and "The Degenerates", Jenny Cleeton & Jennie Fogg. We had a lot of the usual stalls and attractions with some new ones thrown in to add to the excitement!!
Local celebrity, Hilda Clow, opened the festivities for us this year and judged the fancy dress, for which we had an Olympics theme. The kids had all put in a fantastic effort and the prize for the best group went to the Rainbows again who were dressed as a selection of athletes, while the prize for the best individual went to Theo Harvey who came dressed as a canoeist.
On behalf of the Committee I would like to extend a massive thank you to all those who helped to make it happen. In particular we would like to thank Branston for their continued extremely generous support along with the many other local businesses and organisations which were once again good enough to donate raffle prizes and offer their support in other ways. Also, we would like to thank those members of the wider community who offered their time and expertise to help make this event the success it was: those who helped put up the gazebos in the morning, who donated baking, raffle prizes or a bottle for the bottle stall, and those who ran the individual stalls. We really couldn't do it without you and, as a largely new committee, we greatly appreciate the level of community support.
We would also like to thank all the families who supported our family disco with our wonderful local DJ, Jim Cook, and those who attended the evening 'do' with the 625s. In particular we would like to thank Jim and the 625s for making these such fabulous events. We would also like to thank all those who took part in the Hill Race and to the many stewards and those who helped to organise it.
I hope to see you all again next year for what already promises to be an even bigger and better event. If anyone would like to get involved in the organisation of the fete or any of the other related events, next year, please feel free to contact me on 850485.
Anna MacNeill Chairperson