THE GRAND MATCH THAT NEVER WAS
1963 and 1979 are years that all older curlers remember well. They were the yea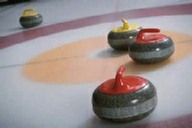 rs of the 'Big Freeze' – not unlike the spell of weather we had at the end of 2009. They were also the years when The Grand Match – the curlers' holy grail - the main curling outdoor bonspiel, were last held.
The Grand Match is a curling tournament held between curling clubs from the North and South of Scotland. It was first played in 1837, and has been played on 38 occasions, the most recently in 1979.
The match has been played lately at the Lake of Mentieth near Callander, although Loch Leven and Piper Dam, near Dundee, are now the favoured venues, due to accessibility and parking.
On this occasion they were both covered in a foot of snow – not good for curling as one needs to sweep the snow aside – whereas Mentieth was snow free, saving a lot of manual labour. Curlers were summoned from far and wide to initially mark out the 250 rinks so that 2,000 curlers could do battle.
The ice had reached seven or eight inches in depth which is sufficient to hold 2,000 curlers, 4,000 curling stones weighing 56lbs each, plus numerous bottles of whisky to fortify the protagonists. The President of the Royal Caledonian Curling Club – the governing body of curling – was even going to arrive and be put down on the ice by helicopter.
Abdie Curling Club and Abdie Ladies, both based at Lindores Loch, representing the North, were scheduled to meet opposition rinks from Ayrshire representing the South. The outdoor stones had been fetched from the curling hut at Lindores, and given a clean and some oil. The implements for marking the rings on the ice at the correct size were also prepared, as were the hacks, used for standing on when delivering the stone.
Hopes were dashed when the police and rescue services declared they could not guarantee the safety of the players and spectators in the short time scale. Health and Safety gone mad!
In the words of the Scottish rugby national anthem – The Curling Grand Match – when will we see your likes again?
Anyone interested in taking up curling and playing for the local club, Abdie Curling Club, please contact Keith Rose on roses@onetel.com