Last date for submissions
30th April 2022
Date of publication
1st June 2022



EDITORS VIEW
I am sure you will have noticed by now we have a Defibrillator, fixed to the outside wall of the Doctor's surgery. It is in a large bright yellow case.
There are numerous people to thank for this, the ones that made generous monetary donations and those that gave up their time to make this happen. We now have enough money to purchase a further two and it is hoped that one of them will be installed in the phone box in Aberargie.
Soon we will be advertising a date for training, so watch this space as well as social media.
A Defibrillator is a bit like fire insurance, you hope you will never have to use it.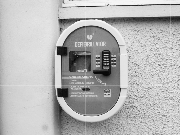 FROM THE CHAIR
I hope when you start reading this issue of The Crier we will all be sitting in glorious sunshine and admiring the colours around you. The Abernethy in Bloom team have done, and are doing a wonderful job. Being involved now with Scottish Gardens is encouraging more gardeners to take part and I have been hearing many words of praise from people who have visited Abernethy because of the Open Gardens day
It was fortunate that it was also the opening day of the Museum and we had a good few visitors coming in after doing the gardens.
How quickly the time is passing. June already and preparations under way for the Fete at the Williamson Hall and The Hill Race, details of which will be found elsewhere in this edition.
This issue contains a little bit of everything topical and historical, fact and fiction, news and views. What more does one want for a "good read"?
Have a wonderful summer
Hilda Clow