ABERARGIE SEAT SQUARE
Through last year and all the restrictions imposed upon us it became clear that there was nowhere in or around Aberargie to sit outside. Everyone was diligently doing their exercise but there was no bench to sit and rest, to pass the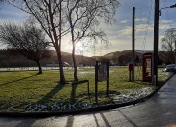 time of day, or simply enjoy the fresh air. So in February this year I put out feelers to first see if others in Aberargie agreed with me, second to see where we could place a seat and third to investigate where we could get money to do this.
It was like pushing an open door. Residents of Aberargie agreed and many offered to help. The Council said it was a good idea and a community officer, Elspeth Bruce, gave advice. If the seat was on Council land that wouldn't be a problem, as long as the grass-cutter squad could get around it. The issue of holding funds securely was made easy by our dear Community Council agreeing to hold funds as they came in thereby removing the need to form a formal committee with a constitution, AGMs etc. For a one-off project this was wonderful! So everyone kept smiling and offering to contribute.
Helena McAllister had already got a defibrillator into the old red phone box but that box needed tidying up, and labelling. Helena had sourced proper red paint but the box needed quite a lot of work before that could go on. So it was decided to tell the Council that seats were going besides the 'box and we would create a seating area to tidy the whole place up. And then, to address the anxiety of sitting in close proximity, we would have two seats and they would be placed two metres apart. This would be a subtle nod to the inspiring year of 2020.
And so off it went. A leaflet around the hamlet soon inspired offers from local companies to contribute and envelopes appeared in my letter box with individual donations. As confidence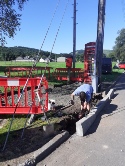 was gained I researched the best seats. Recycled plastic would be good for longevity with no maintenance. Matching flower boxes would make an attractive "square". The old noticeboard was letting in water dreadfully and wobbled terribly whenever you tried to pin a poster. So a noticeboard was added to the shopping list.
As the money mounted the furniture was ordered. Thoughts of getting the seats in for the summer quickly faded as the manufacturers informed us that not only was there a 9-week run-in delivery time but one of their main machines had broken down (through exhaustion because of the fantastic demand for benches in 2020-1!) however we might squeeze it in before the end of August.
So we set about refurbishing the 'phone box with electric wire brushes and scrapers and sand paper and power hose. Praise must be given to Willie and Jane Rowan for their endless energy. Not only have they been the mainstay behind the Aberargie Well planting but they diverted their muscle power to the phone box and cleaned it inside and out.
Then the Council appeared in July and said they were laying the slabs over the next two days! This was way earlier than expected and was a joy to behold as they erected

safety barriers and set about excavating the base layer, setting in dropped kerbs and laying the slabs. They even added an extra row of slabs as the benches were longer then they expected. The dropped kerbs create easy access to the seats and to the letter box.
Willie's engineering skills came into play to make the foundation of the phone box perfect as the concrete had been crushed by parking vehicles. Now it is as smart as the rest of the slabbed area.
Greg and Willie erected the notice board. It is also in recycled plastic so should weather the future well. Andy fixed the seats in place.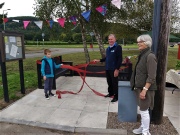 So on September 12th we had a little "opening" event where the oldest, Willie Rowan, and James Burns, the youngest present, pulled op
en the red ribbon. Cllr Kathleen Ba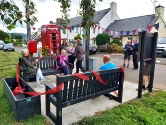 ird joined us for bakes and drinks and a good natter.
Andy for the Binn Group got a pile of soil dropped off and Cath set about getting the soil into the troughs. Helena planted bulbs around the green and plant fairies have magic-ed more bulbs and plants into the troughs. We discovered an artist amongst us and Sandie Bailie spent a few days working on a work of art which adds a surprising splash of colour and just completes the scene.
So we are already enjoying our "Square" and we look forward to embellishing it with flowers and plants into the future.
We are greatly appreciative of all the individual contributions which flooded in. To the Almond and Earn Community Partnership, to Perth and Kinross Roads Department, to Patterson's Crane Hire, Netherton Equestrian, Morrison Distillery and The Binn Group for their generous donations. These made it possible to create a good quality seating area which will last the commu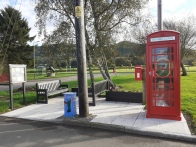 nity many years and creates an attractive little "destination" in Aberargie.
We frightened away bad spirits at Hallowe'en and watched the Christmas tree lights go on in comfort!
So here is the invitation to you all from Aberargie - Walk, jog, run, cycle along to the Square and take a rest here - post a postcard in the letter box, exchange a book from the phone box library, see what other goodies might be in there to share, donate something yourself.
Theresa Hughes
Project Coordinator, 2021