Editor's view
While I sit and type my "view" it's belting down with hail outside and is minus something.
Hopefully by the time your Crier drops through your door things will be a bit more normal, I say more normal as it will be a long time before we get back to the old normal, if we ever do.
Many of the village organisations will be open again or thinking about opening but, I am sure, with some restrictions.
Abernethy has a new councillor, Mr Frank Smith. I wish him well. He has a hard act to follow as the late Henry Anderson worked hard for the area.
Abernethy and District has done well over the winter months, two new Puffin crossings, a new bus shelter and bike store, the extension of the "bike and walking" path and some pavement repair and pot hole filling.
The Crier received a reply to my view in the last edition regarding the clearing of snow from our pavements. Due to the extremely foul language the reply could not be printed, and anyway the contributor was not brave enough to supply a name or address. Stand up for your convictions, I say.
Have a great summer and stay safe.
Jimmy Swan
From the chair
I can hardly believe that this is the 50th edition of the Crier. It should have been the 51st but we cancelled last June's edition because of the unknown situation which we were thrown into by Covid19. So here we are one year later still wondering when normality will return and indeed what will be classed as normal when it does return. The first Crier came out in December 2008.
T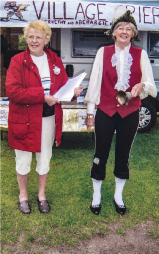 his photograph shows two of the original, and the current, committee raising awareness of the Crier at the Gala Day in 2009.
In case the newer members of the village were wondering, the Town Crier is Maureen Nisbet and her assistant is Hilda Clow.
This time round you are going to find quite a bit of history which I hope people who have come to live in the village in more recent times will find interesting, while it may bring back happy memories to those longer-standing residents. For example in the article written about the Walker family there is mention of Gala Week, Yes, a whole week of events to raise money for the Williamson Hall, culminating in a dance in the hall at which the Pictish Maid was chosen. She would be crowned the Gala Queen the following year.
On a more personal note, I too was taken back in time by the mention of Charlie Bates. I knew Charlie long before I had anything to do with Abernethy when I was working as a physio in P.R.I. A gymnasium had been added to the department and Charlie was appointed the first Remedial Gymnast coming from the rehabilitation centre in Bridge of Earn Hospital. He was such a popular figure and helped so many people, both old and young, both as a gymnast and a youth leader. Charlie had been a commando during the war and lived a full and active life for 100 years!
Bob Macdonald has once again produced another happy memory of VE day. Bob has fantastic recall and his articles are always so vivid and entertaining.
Just one more mention of the past, leading to the future. The Museum is hoping to re-open in the beginning of June so in the future you can now look forward to looking at the past.
Coming up to date, we have our usual reports from our local councillors including an introduction from our new councillor Frank Smith.
The Rev Stan is keeping us up to date in his own inimitable way with church affairs, and he hopes that normal church services will resume in the not too distant future.
Thanks also to Gordon Miller for his report on the Scouts, Cubs and Beavers and also the update on the improvements in the Pavilion.
We are grateful too to Perth and Kinross Countryside Trust, keeping us abreast of the work being carried on in Abernethy and Bridge of Earn. This should be an asset to us all.
One thing before I leave you to turn over the pages. Are there no babies being born in Abernethy now, no-one getting engaged or married? Sadly all we get are notices of deaths. Please let us be able to publish happy events.
Enjoy the summer, and I hope everyone manages to have a good holiday this year.
Hilda Clow